On the Registrant List page, you can view registrants that signed up for an event through an event registration form. On this page, administrators can:
View and search for event registrants and guests
Update registration statuses
Edit registration information
Export event registrants
Email event registrants
View revenue collected through your event section
View who registered the attendee
The registrant list is a handy tool to market your events and track attendance. For example, an admin can send a reminder email to everyone who has registered, or attended, with promotional material. We recommend using the registrant list at your event - whether you access it online via your MC Professional account or export and print a version for use at the registration table.
See our article on form submissions for more information on editing submission information.
To access the registrant list of a form
1. Navigate to Forms > Form List.
2. Click either the view list or number hyperlink underneath the Registrants column. If you see view list, this means the form contains multiple event sections. On the following page, you can toggle back and forth between different event sections.

To filter a registrant list
Click inside the checkboxes at the top of the page. You can filter by:
Registered
Attended
No Show
Cancelled

To update registrant statuses
You can do so individually, or in bulk. Each registrant begins with the Registered status by default. This means they've submitted the event form. To change registrant statuses individually, select the dropdown menu underneath the Status column that corresponds to the member's row. There are three registrant statuses you can select in the dropdown menu:
Registered: The registrant has submitted the event form.
Attended: An admin has manually updated the registrant's status to show that they've attended the event.
No Show: An admin has manually updated the registrant's status to display that they did not show up for the event.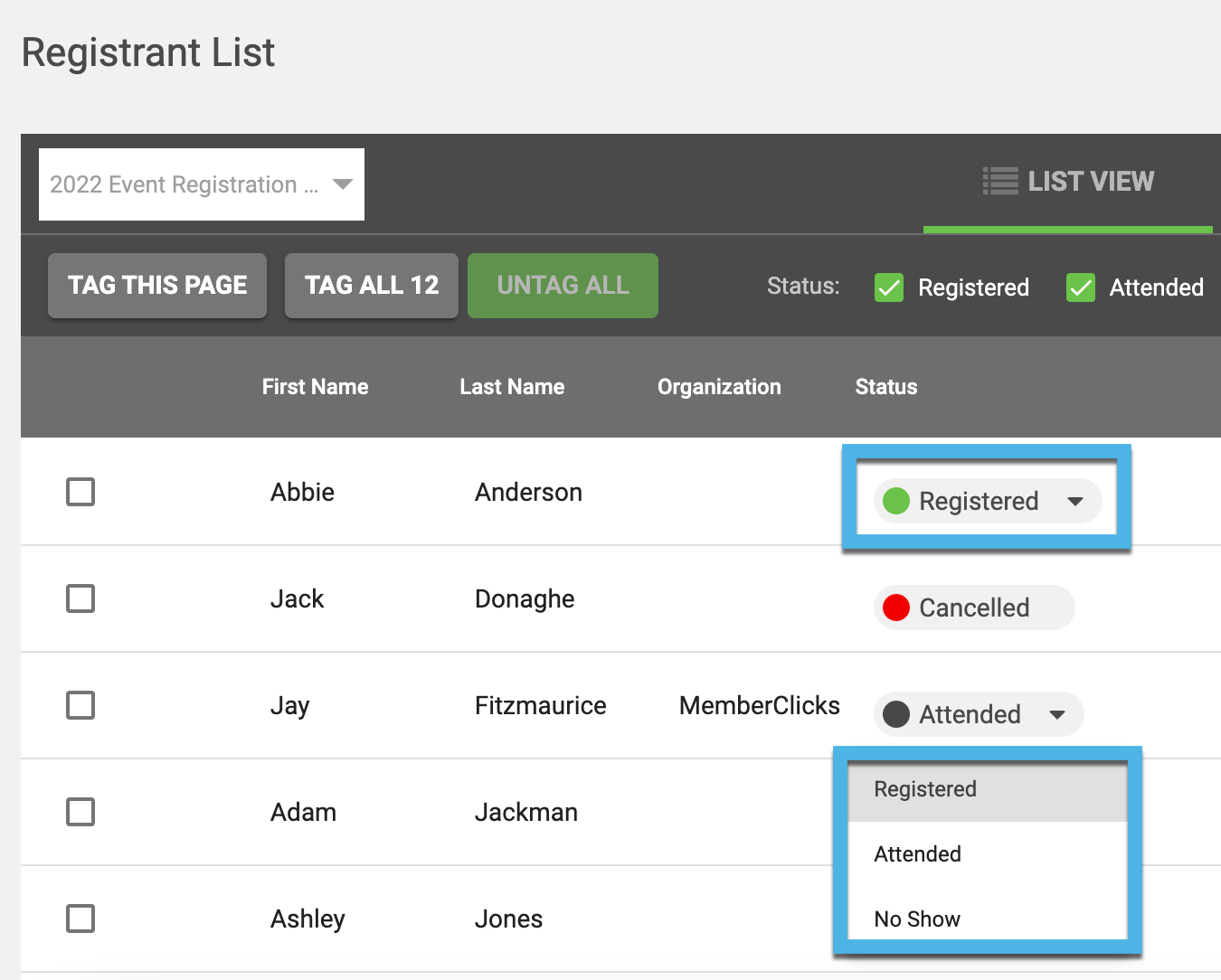 You can also update the status of your registrants in bulk. Tag users in your list, then click the Actions dropdown menu. Select a status for your tagged registrants.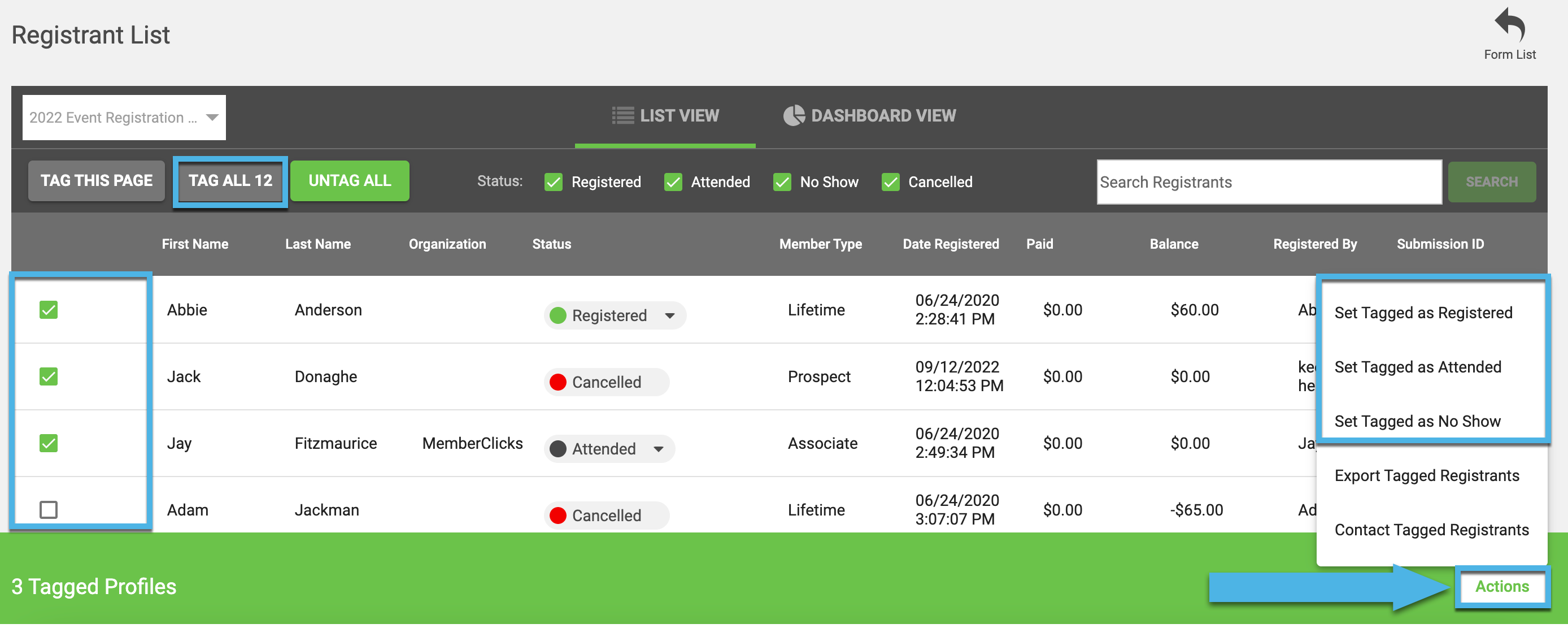 See below to change a registrant's status to cancelled.
Cancellations
Before the event, you can view the registrant list and mark any necessary cancellations. To mark a member as canceled, hover over a registrant in your list then click EDIT. You can also mark individuals as No Show one by one using the dropdown underneath the Status column.

On the following page, click Cancel Registration.
When you cancel a registration then click Save, this prompts the Submission Price Changes window. You can Create a new credit memo or Create a new invoice in this window. Click Save when you're finished.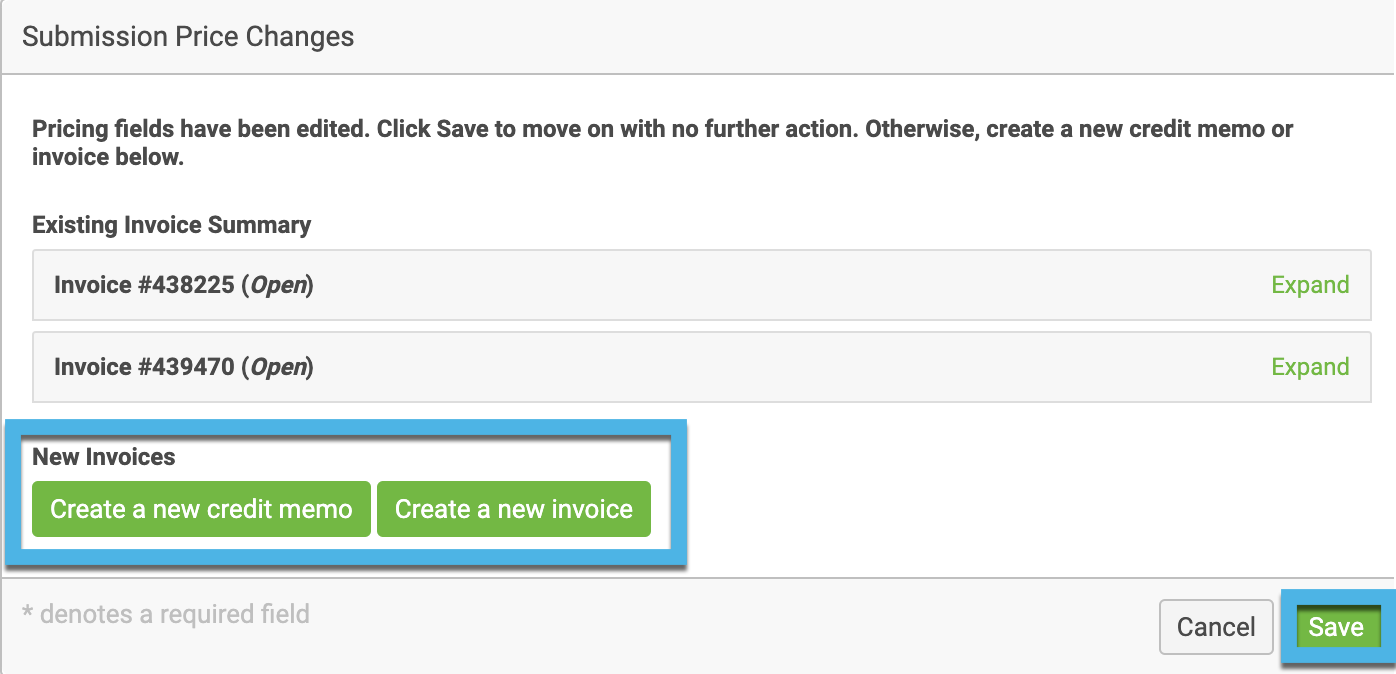 For more information on price changes view our help center article on editing price fields and form submissions.
To export registrants
1. Click TAG ALL, or tag registrants individually.
Prior to your event, you can navigate to the registrant list, filter by Registered, and export those profiles to use as a checklist of registrants at the event.

2. Click the Actions dropdown menu, then select Export Tagged Registrants.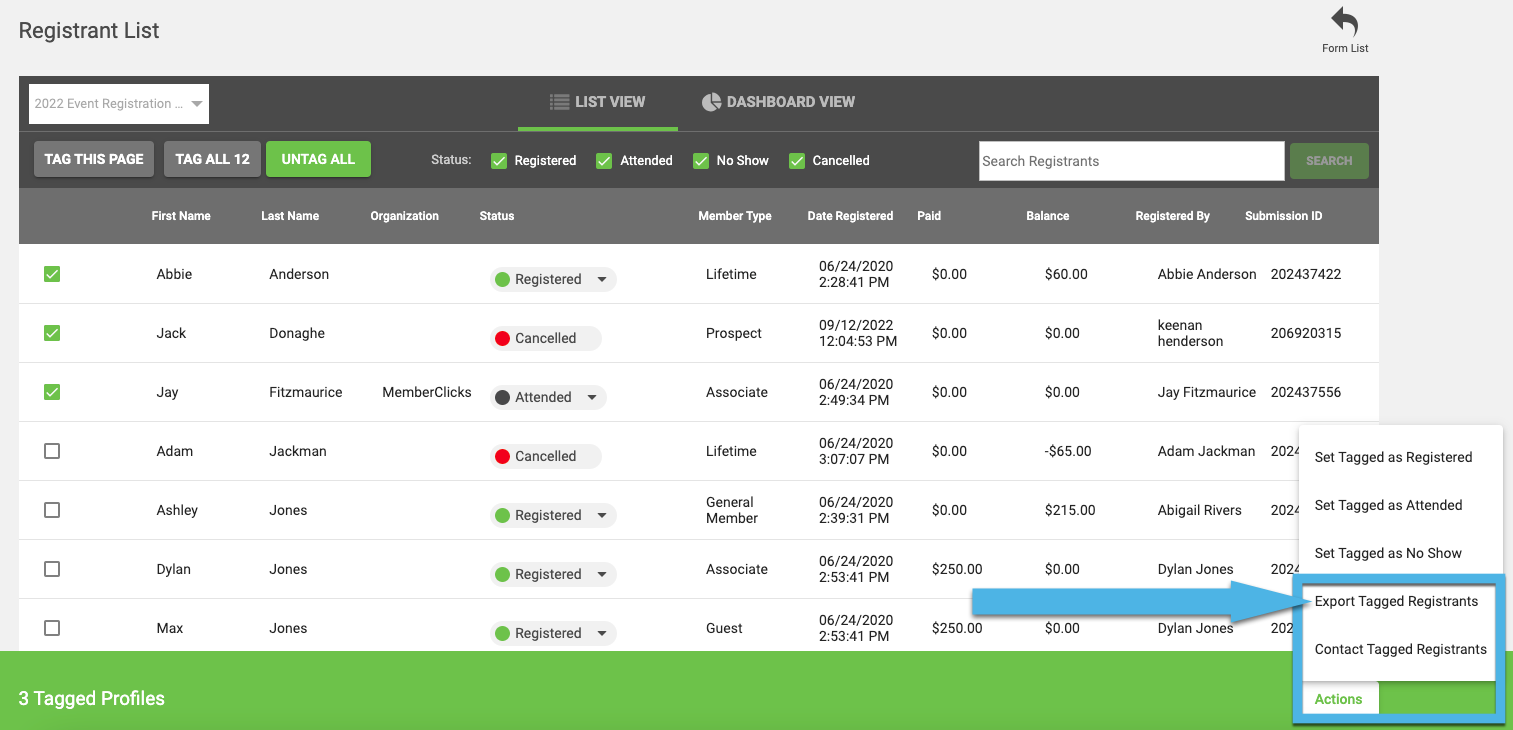 3. On the following screen, enter an Export Name (e.g. 2015 Conference Registrants) then select the registration fields you want to export. Click TOGGLE ALL FIELDS or toggle fields individually.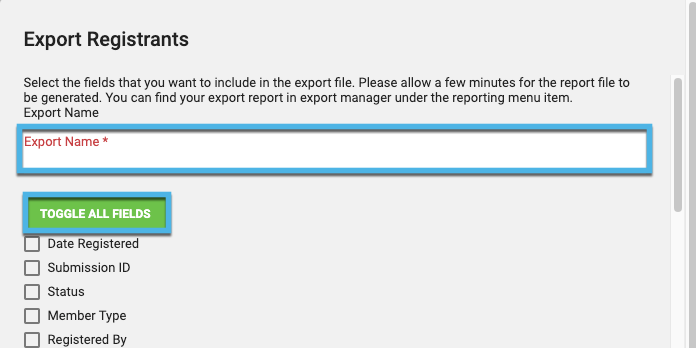 4. Scroll down, then click EXPORT X REGISTRANTS when you're finished.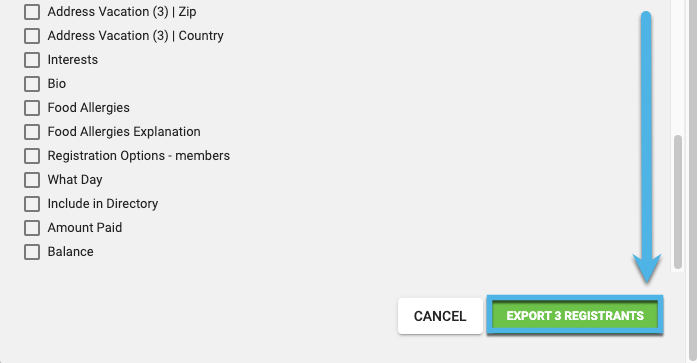 5. To download your export, navigate to Reporting > Exports.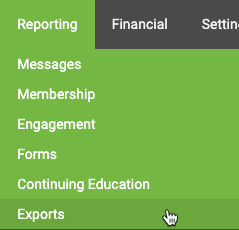 For more information, visit our help centre article on the Exports Report.
To email event registrants
Visit our help center article on Emailing event registrants. This article details how to email event registrants from both a registrant list and the Profile List.
For more information, visit our help center article on using the Contact Center.