With the continuing education transcript tool you can view and add education credits to a member's profile. Additionally, your members can access, add to, and export their education history.
Video tutorial
In this article, you'll find step-by-step instruction on how to use the continuing education transcript tool. If you'd prefer to watch a video to guide you through the full process, watch the video below:
To add continuing education credits to multiple profiles
Navigate to your Profile List. You can tag each profile you want to add continuing education credits to. To narrow down your profile list, you can use the advanced search by drop down menu. Click Actions, then then Add Education Credit.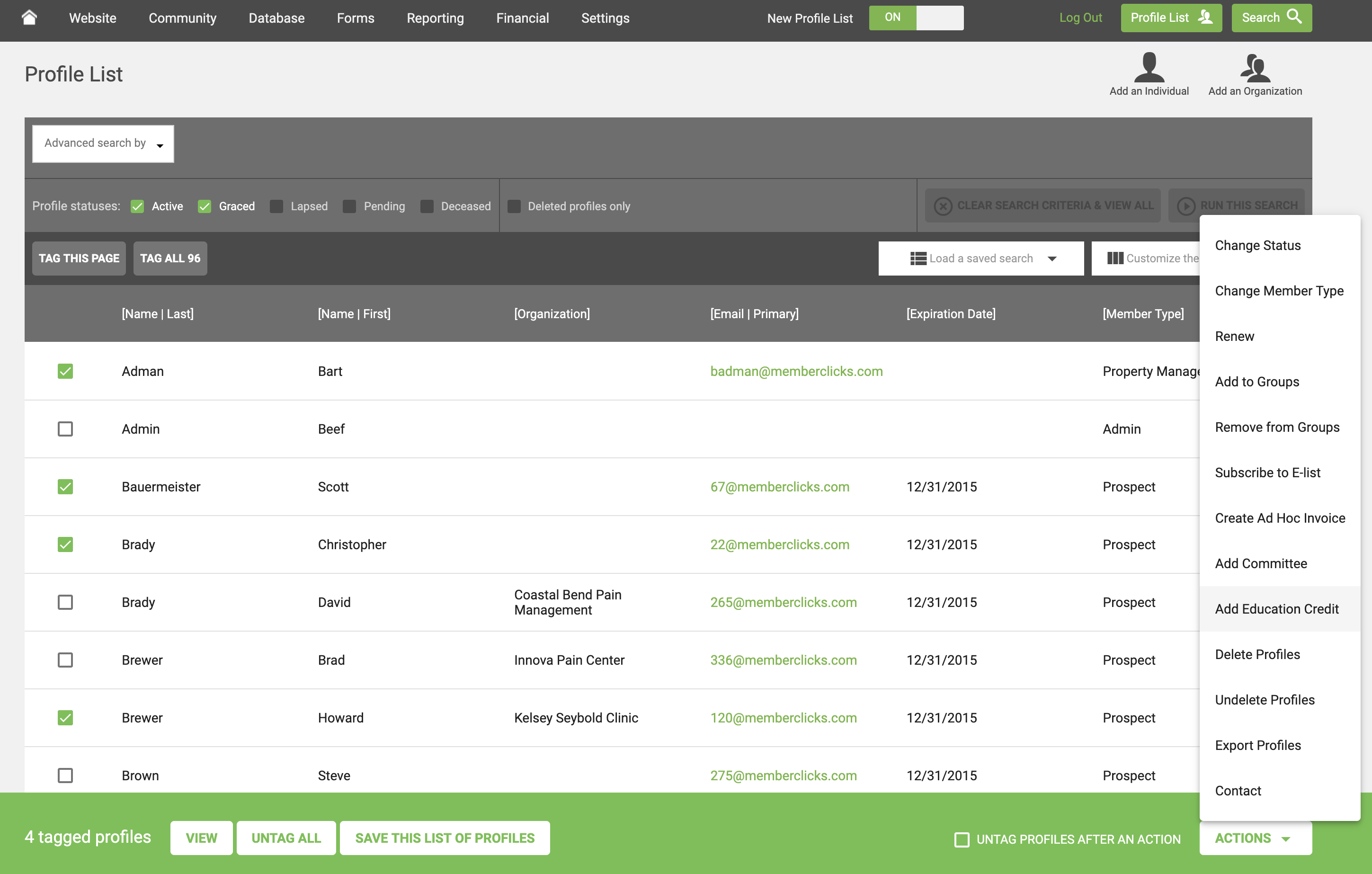 Then, you can add the continuing education details. Keep in mind that what you enter here will populate in each profile you tagged. Required fields include Event/Session Name and the Date Range. If your event is only one day, select the same date in each drop down menu.
If you need to add, edit or delete a new category, click Manage Categories.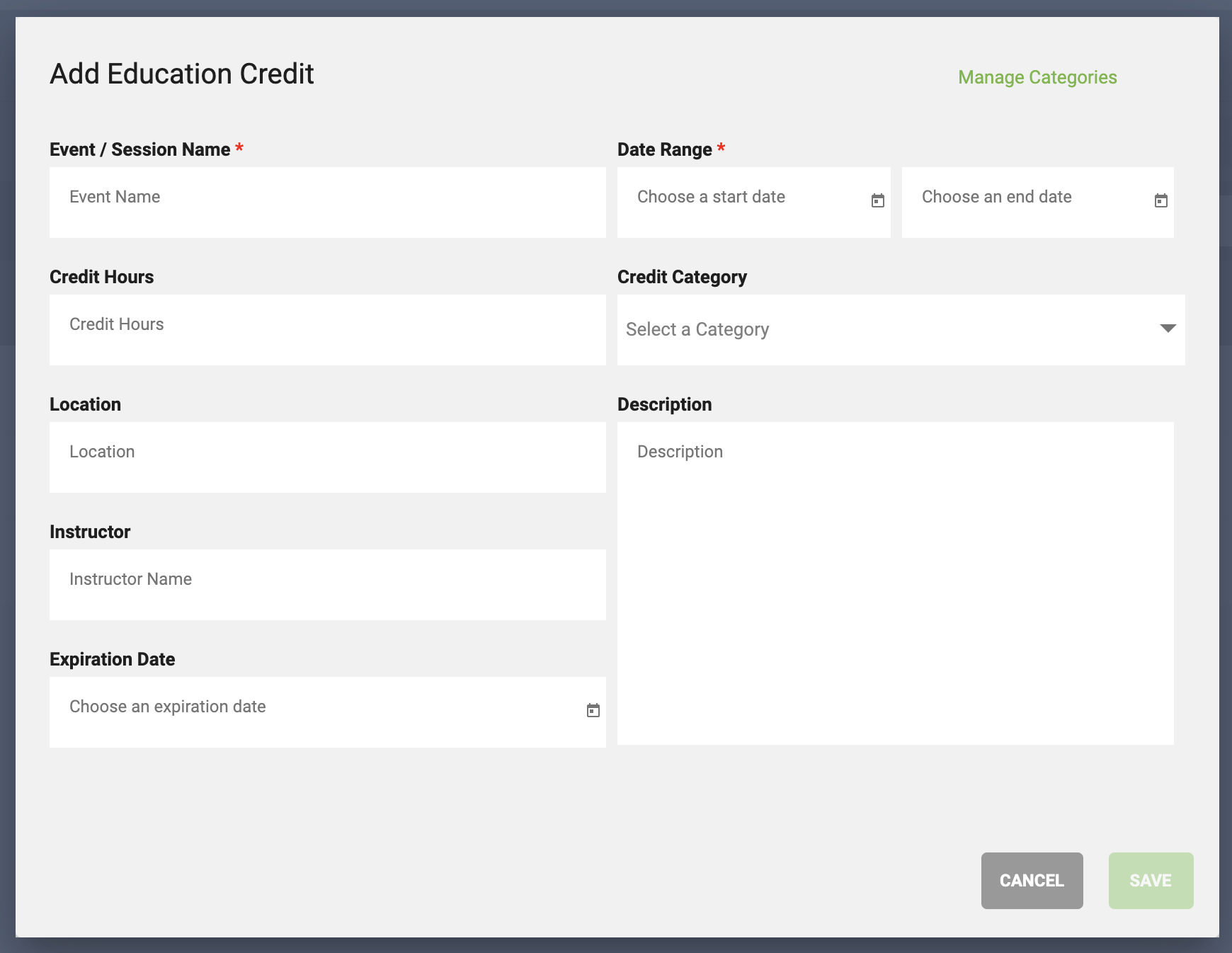 Then, you can add, edit, or delete credit categories. Click Add CE Credit to return to the previous screen.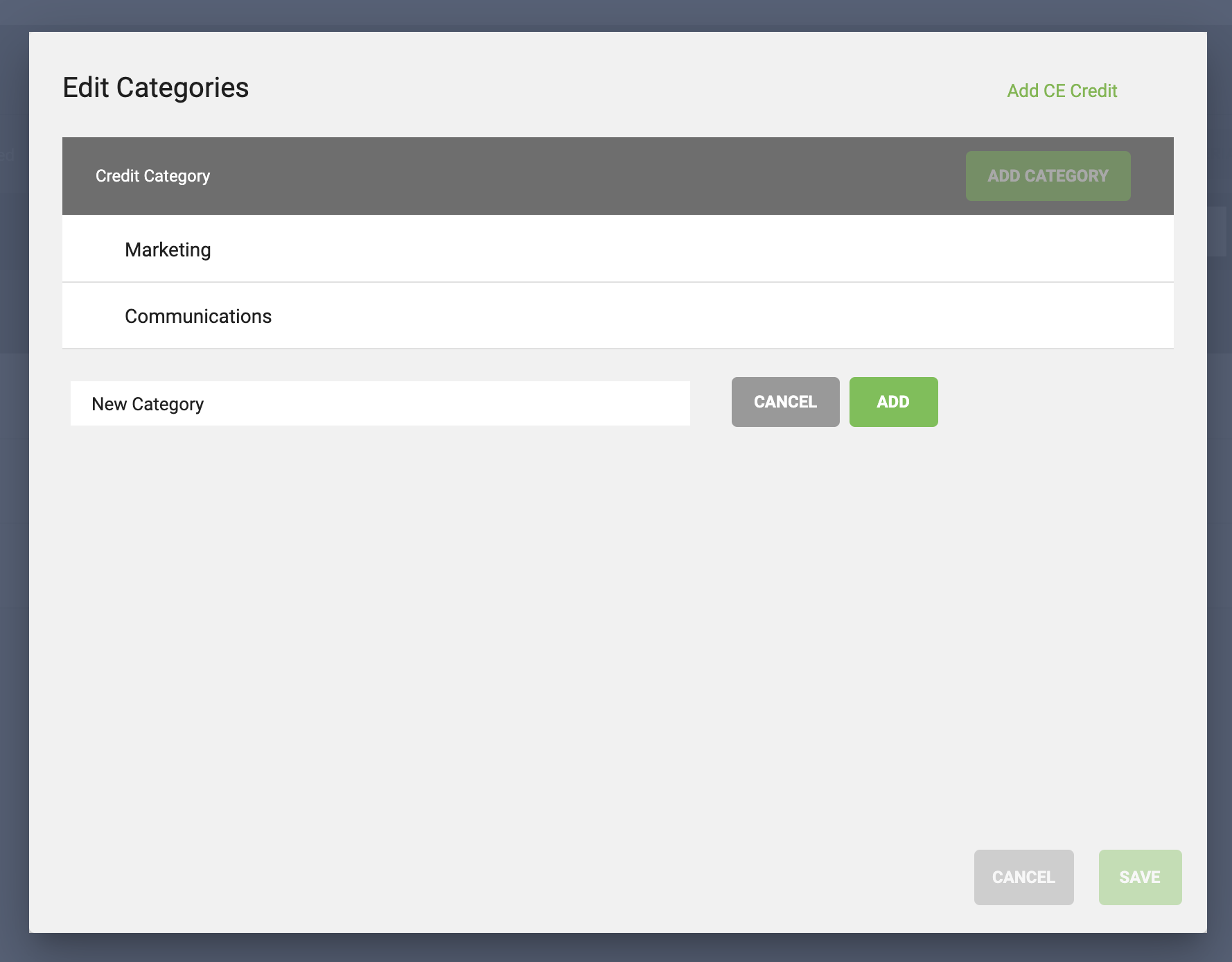 When you're finished, click SAVE.
To access a member's education history
Navigate to the member's profile, then click on the Continuing Education tab. You can view, edit, or delete the details of any Event/Session. You can also add continuing education credits.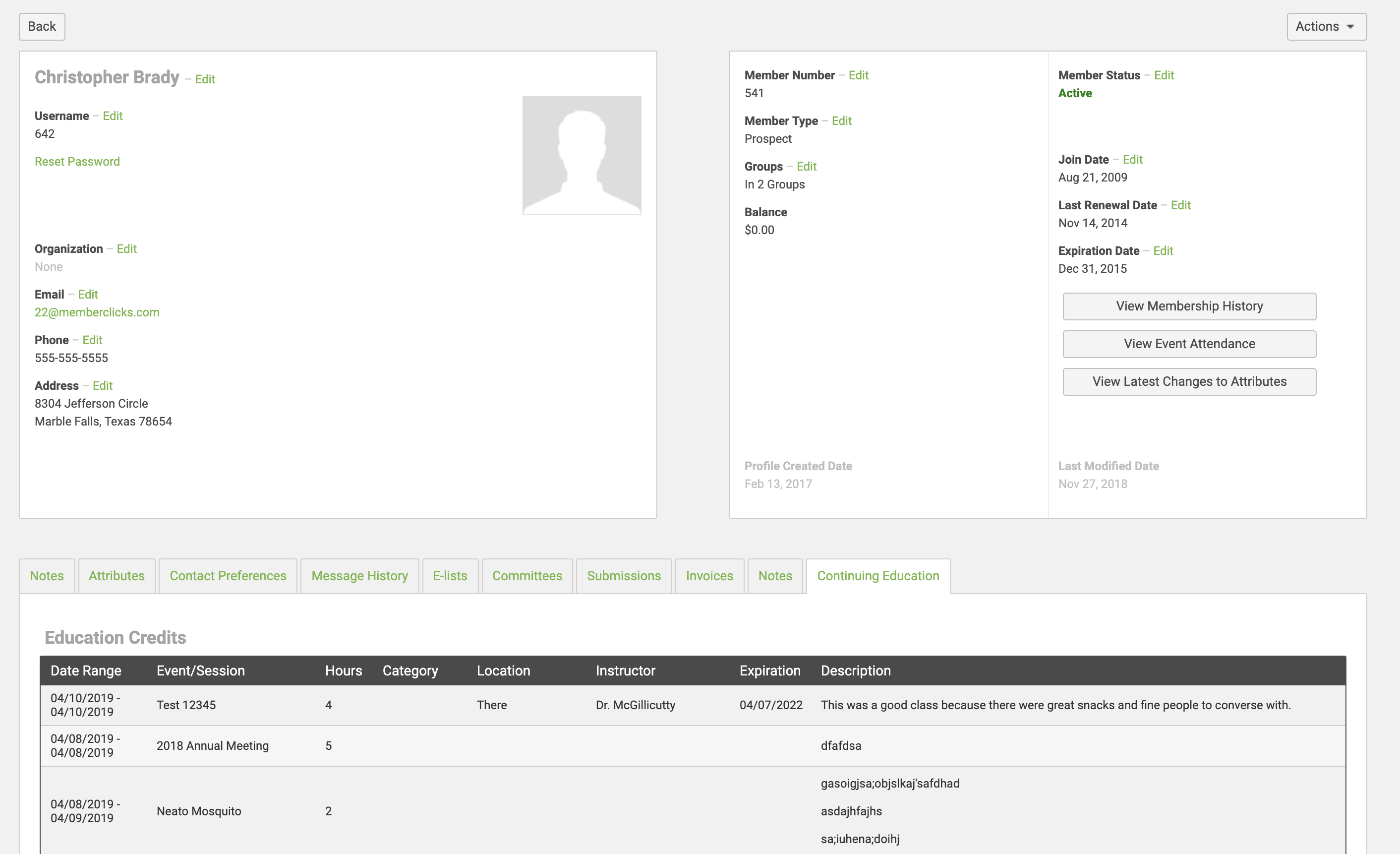 To add continuing education credits to a member's profile
In the member's profile, click the Actions menu, then click Add Education Credit.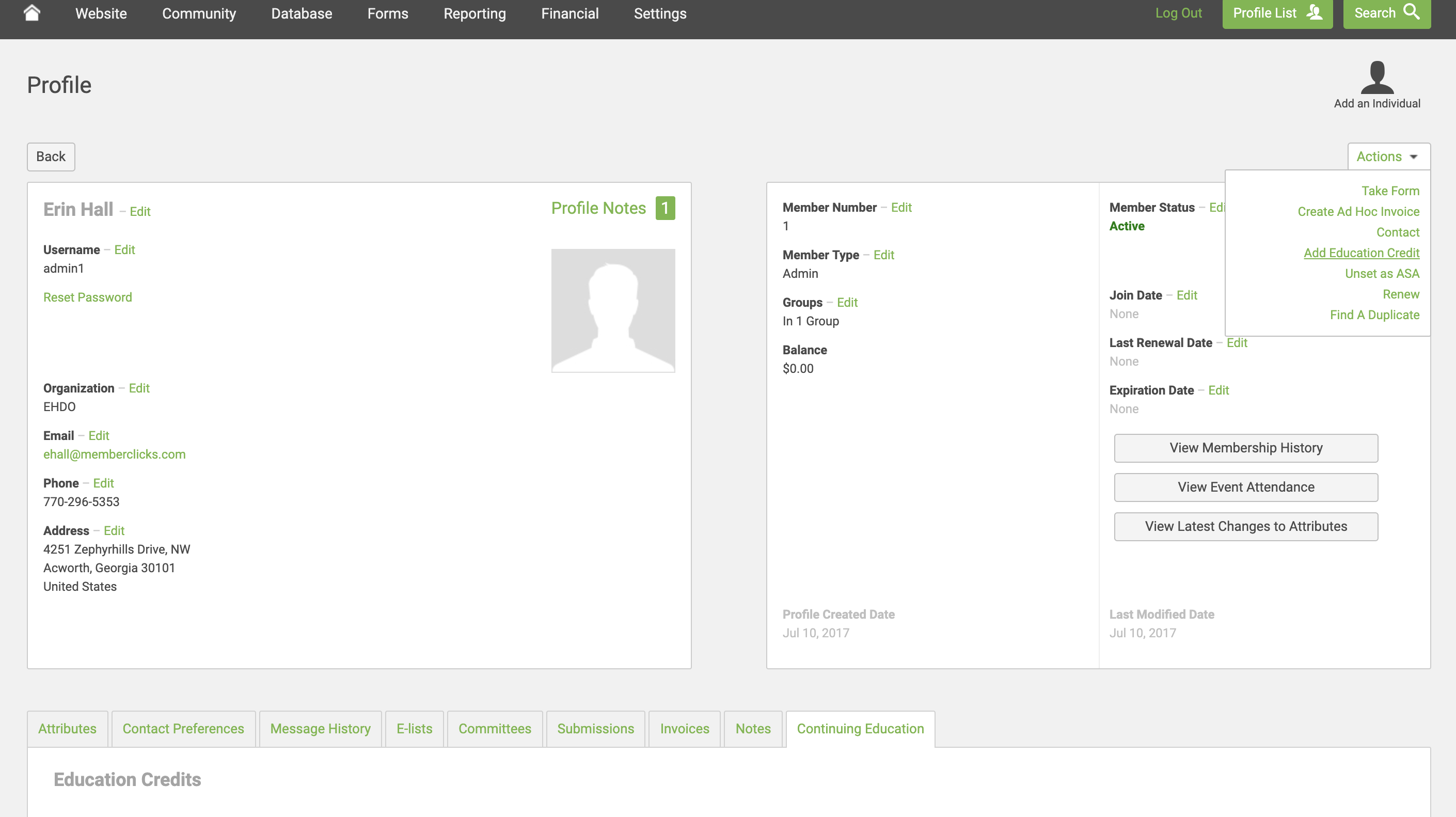 Enter in the details for the education credit. This information will populate in the member's education tab as a new Event/Session.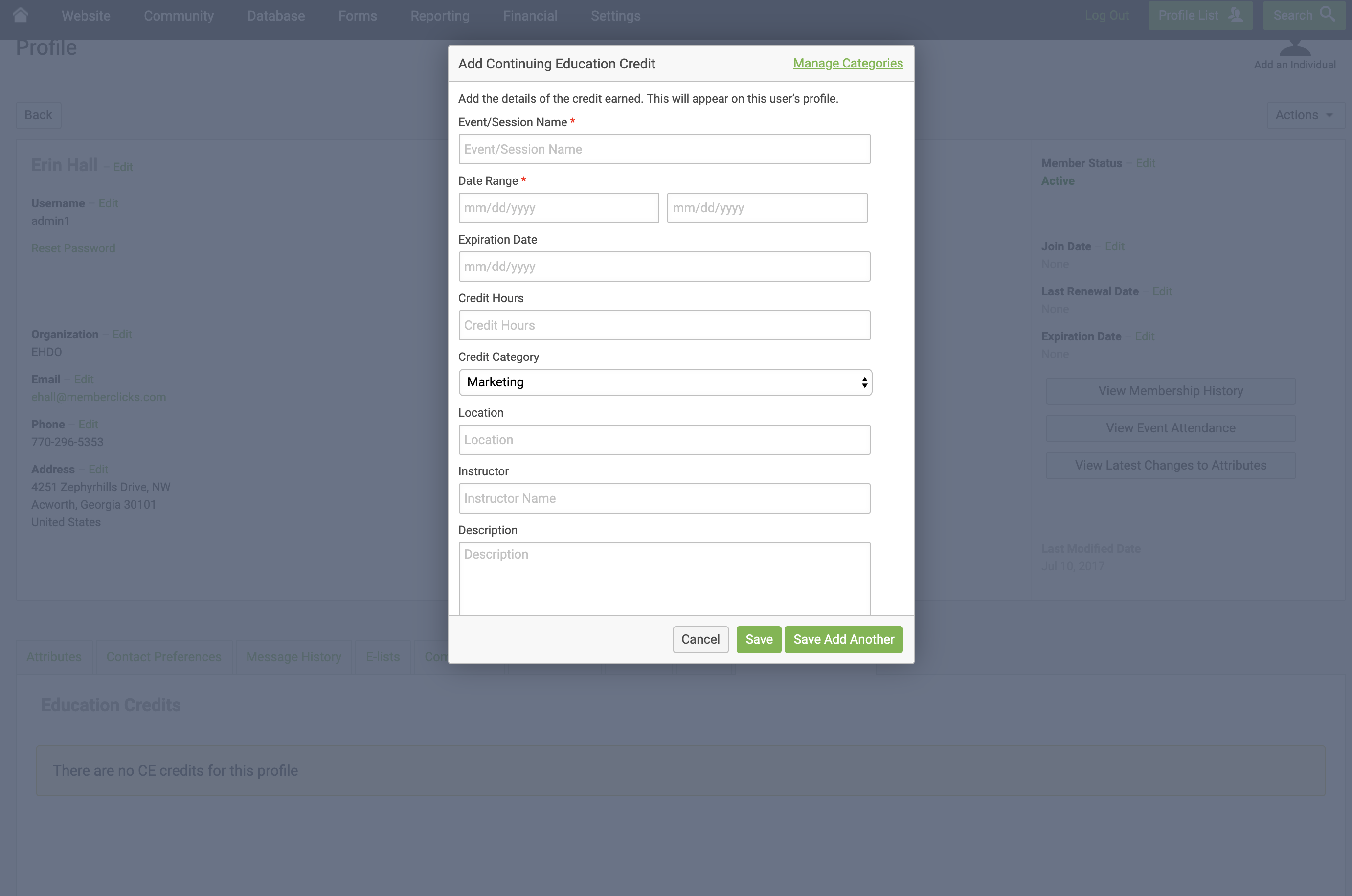 To give members access to their continuing education history
You can do so in two different ways:
1. Navigate to Database > Profile Views.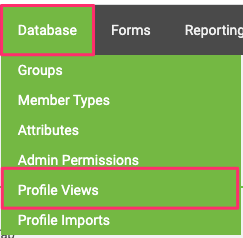 Toggle ON the Enable Continuing Education Tab.

The Continuing Education tab will show in the members profile.

2. Alternatively, you can create a menu item to display the members continuing education credits on a separate page. Navigate to Website > Menu Items.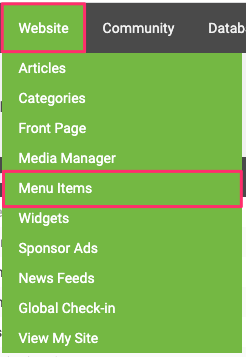 Click on the menu item, underneath the Menu Items column, that you want to add the item to.

Click New to add a new menu item.

Then, click Other > Continuing Education to configure a link that will allow your members to see their transcript after logging in.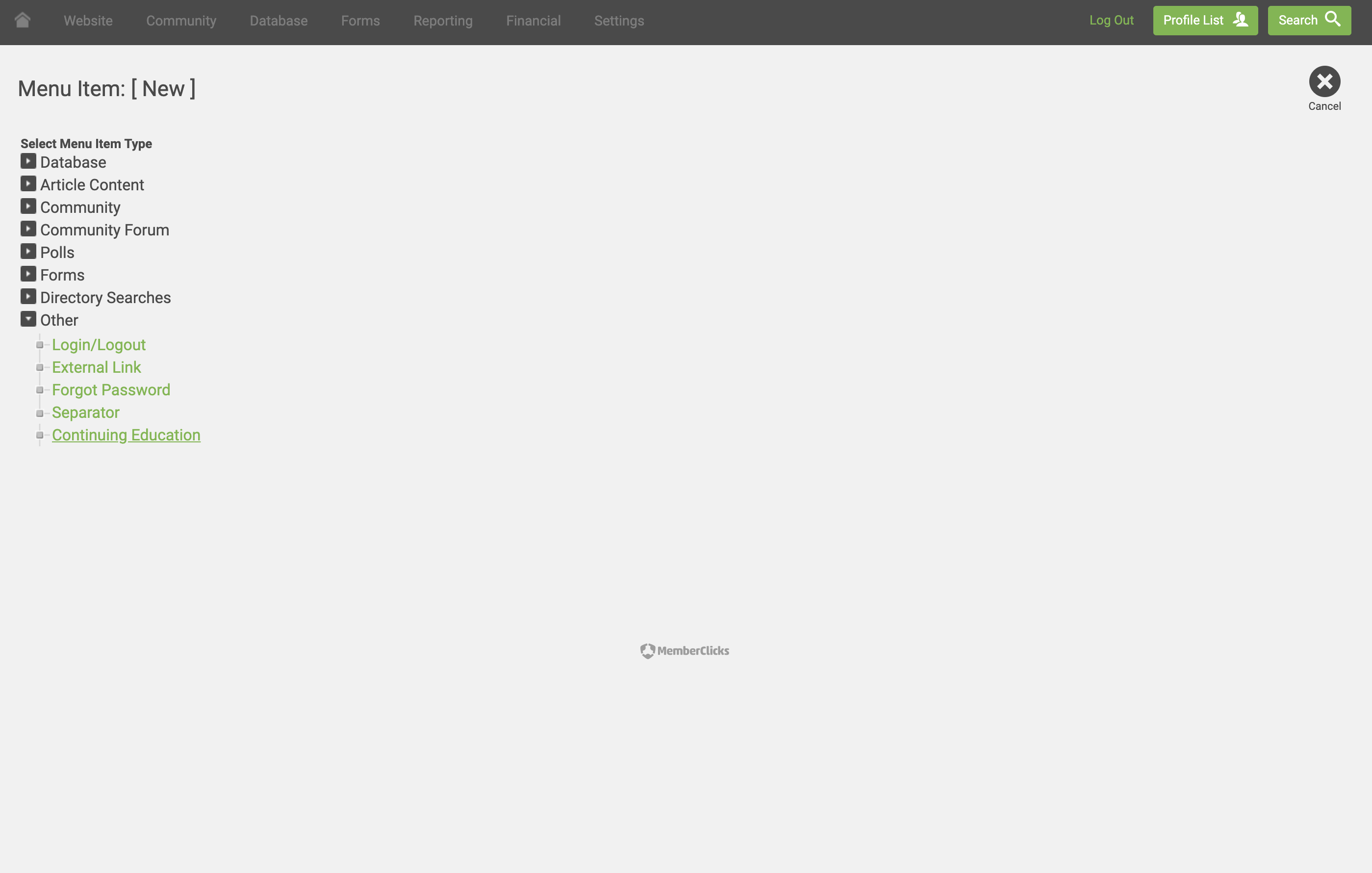 Configuring link details and permissions
You can set the title, location and group permissions for your continuing education link. This link will appear on the front end of your site for members assigned to the appropriate group. If a member clicks on the link while signed into their account, it will display their personalized continuing education transcript.
To grant your members the ability to add their own continuing education credits to the transcript, make sure the toggle under Parameters (Member View) is set to Yes. By default, it is set to No.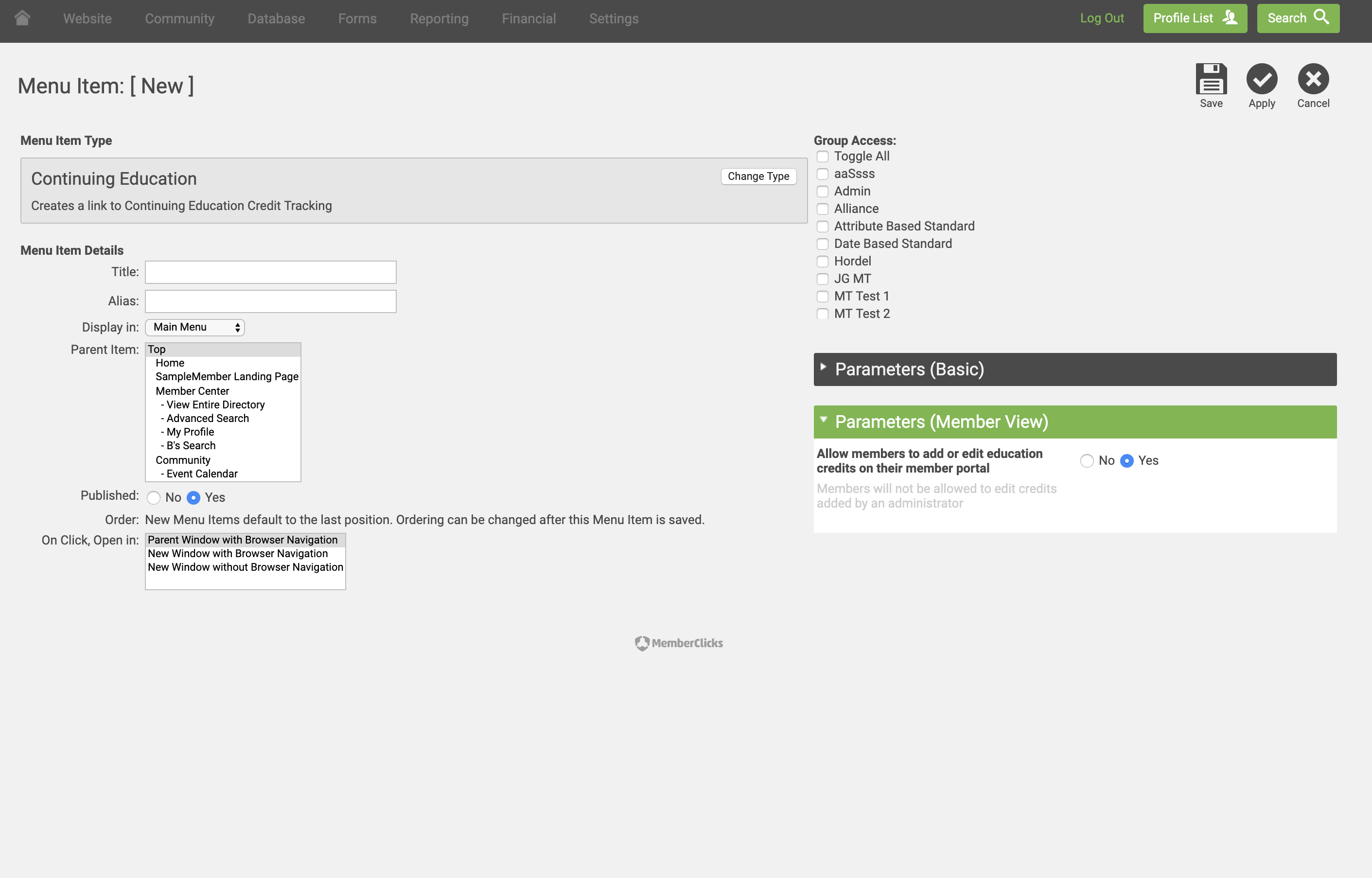 To place a global footer on exported transcripts
If you want to include a footer on your continuing education transcripts, navigate to Settings Menu > Account Settings. Then, scroll down and enter footer text. Click SAVE when you're finished.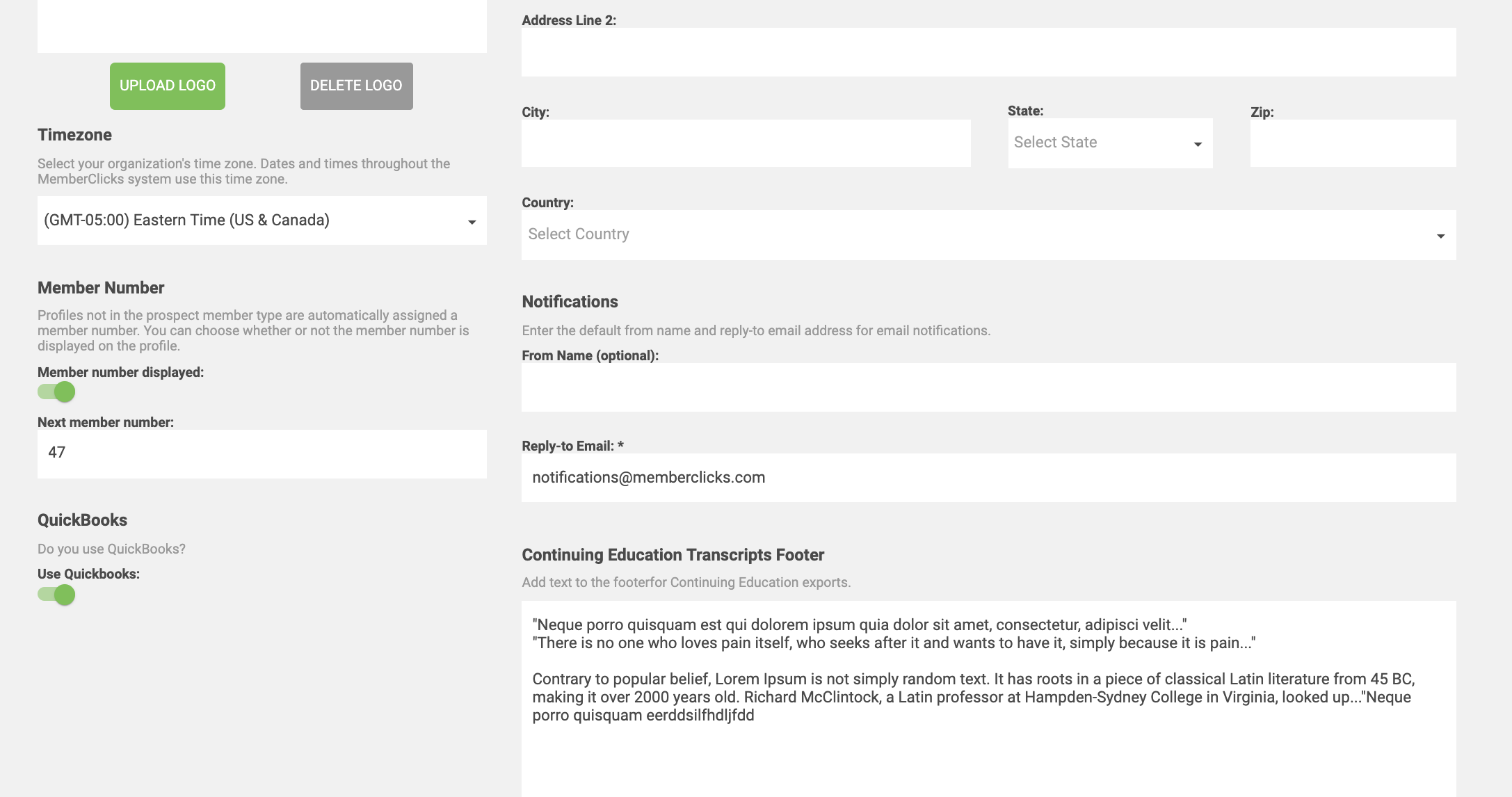 ---
To access a transcript
Your member can sign in to your website, then click the Continuing Education tab, or link.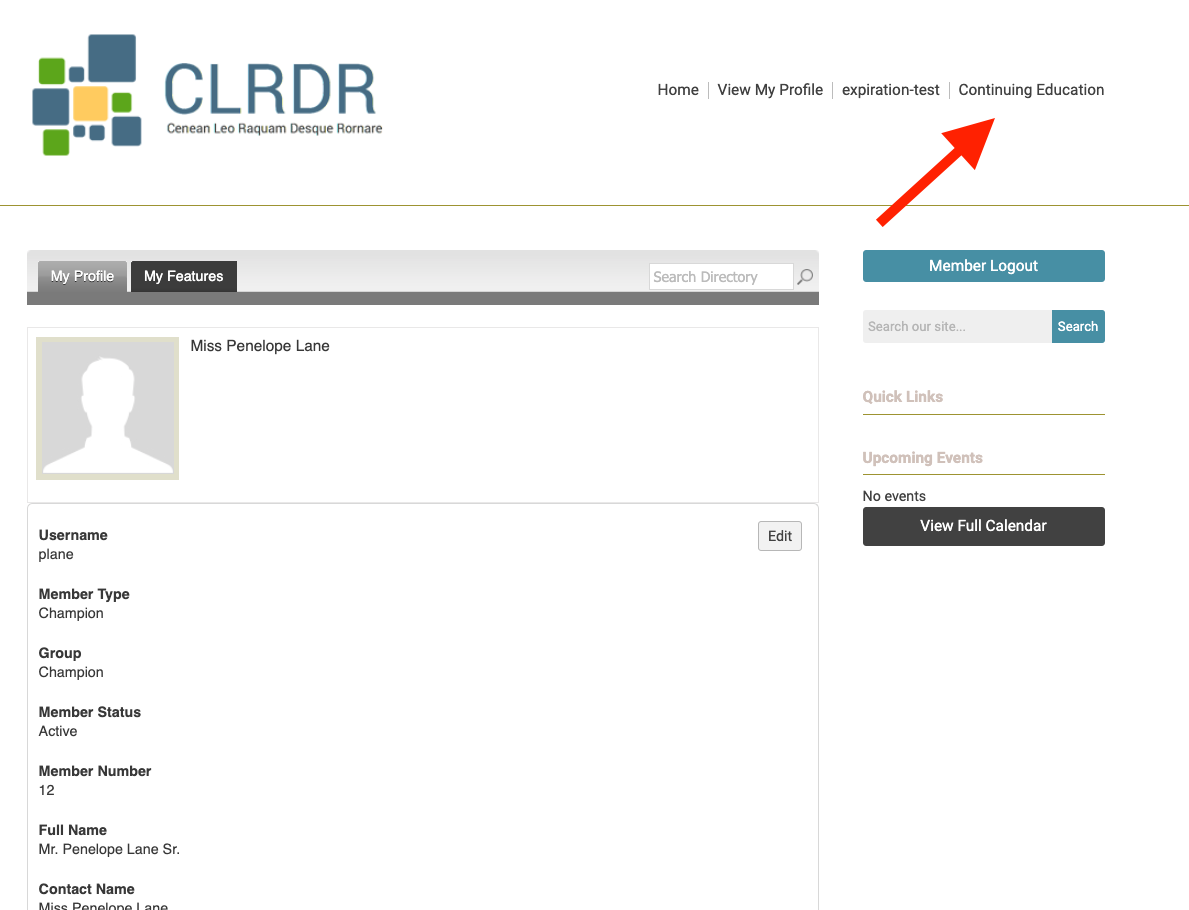 Here, the member can add education credits if enabled. Members can edit credits they've added to their account at any time.
Members cannot edit credits added by an admin. Members can only edit education credits added on their own behalf. Also, members can only select from categories that have been added by the admin.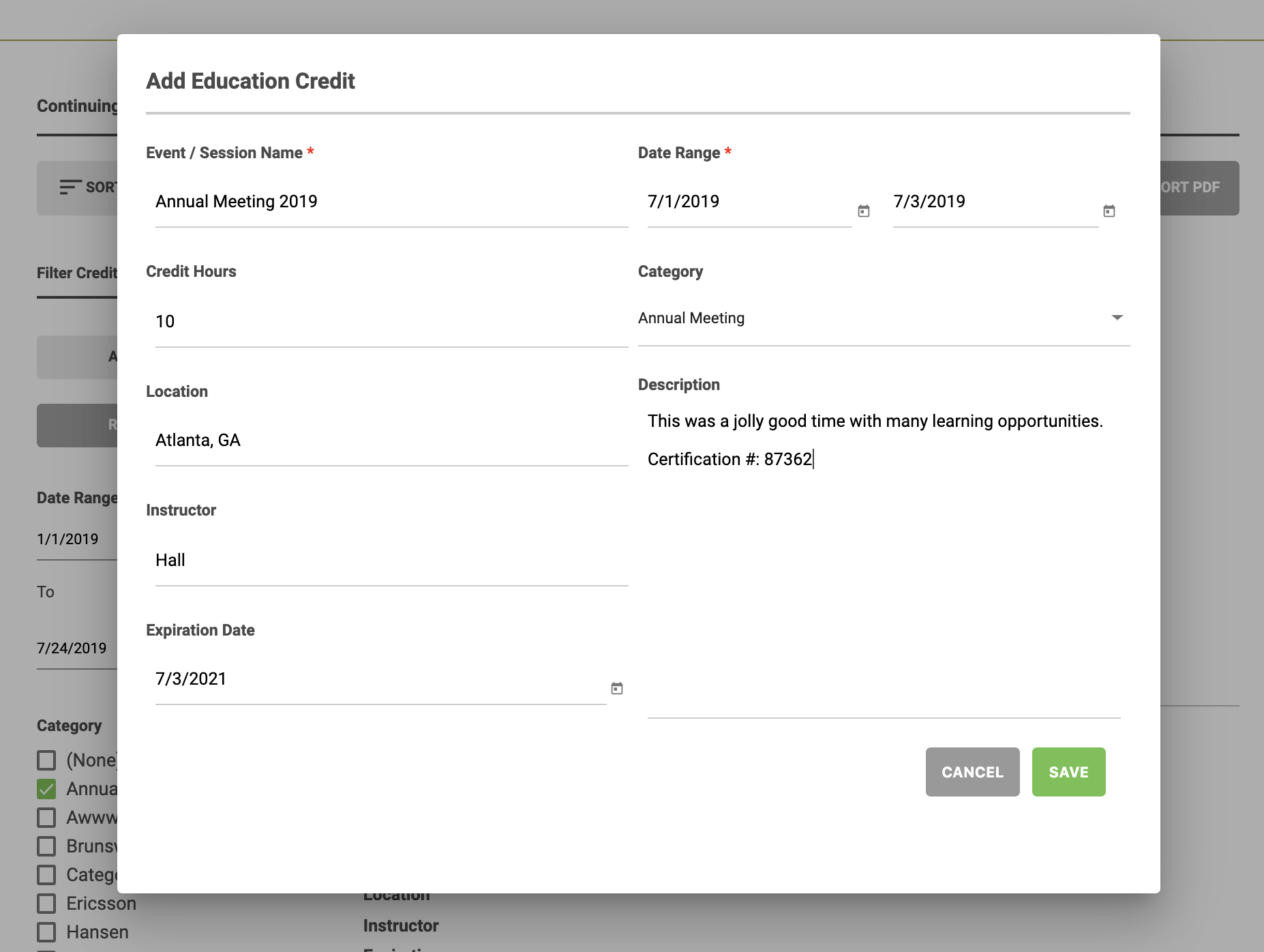 Navigate to Database > Profile Views to toggle on or off the ability for members to add and edit education credits from their member profile.
To upload a certificate
Members can upload a certificate to accompany the credits they add to their transcript. Once saved, they can download or replace the certificate from their transcript page.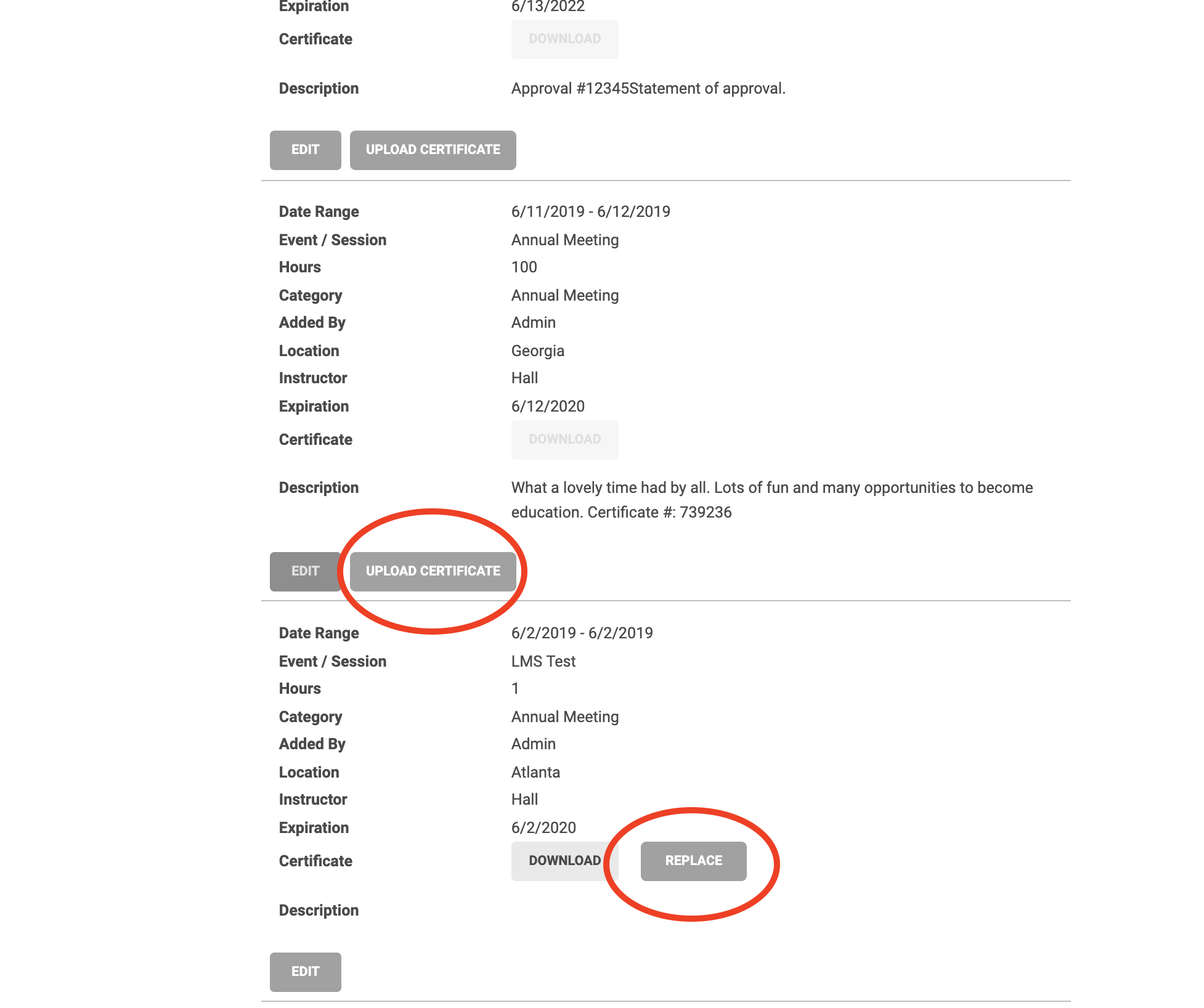 To filter credits and export a PDF
Your members can filter their list to specify which credits they want to view and export. They can filter by date range, category, and who added the credit (admin or self). Then, they can click Export PDF to download a PDF of their list.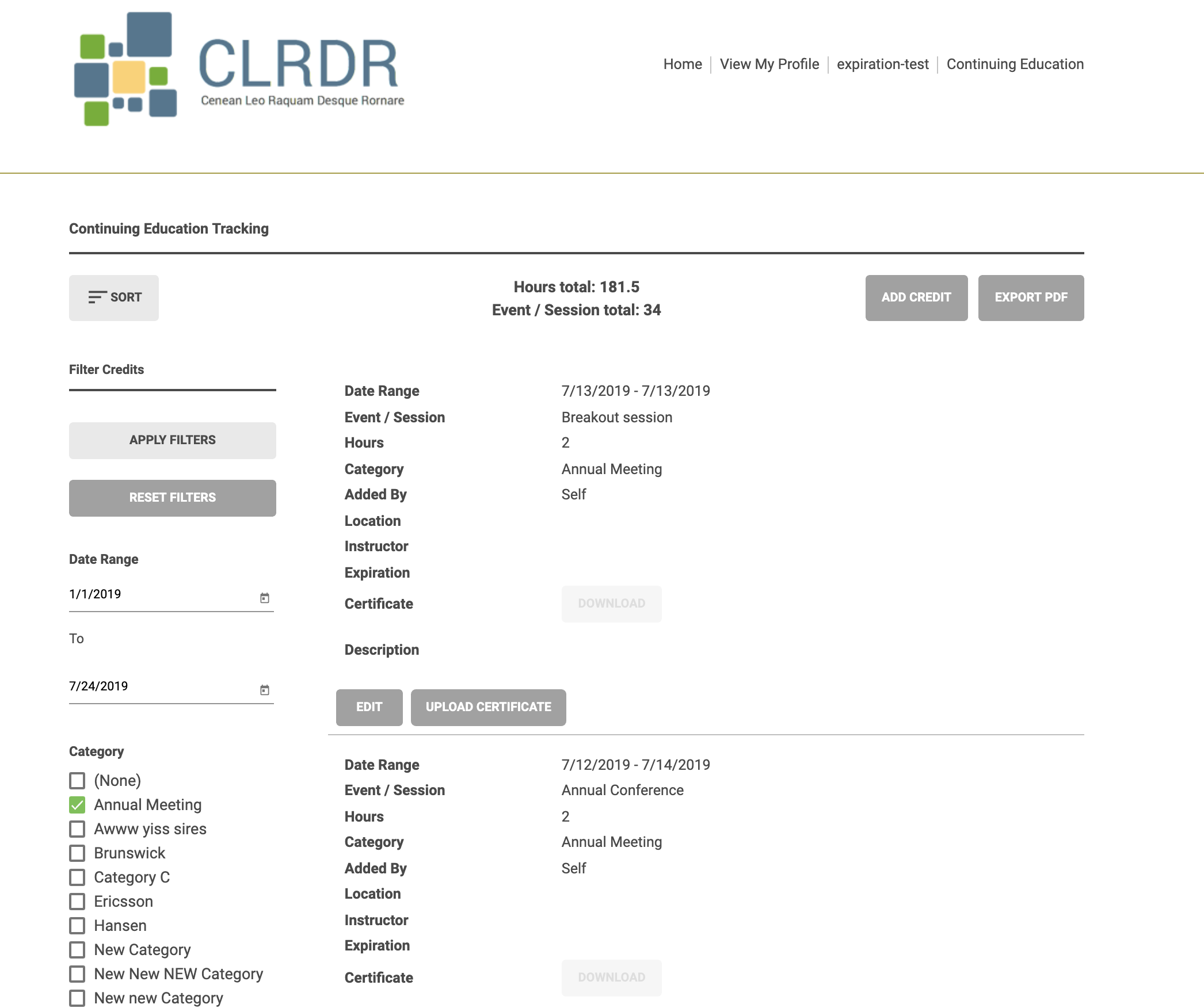 For more information on importing a continuing education credit .csv file, click here.