What is it?
A bounced email is an electronic message returned to the sender because it was not delivered to the recipient for some reason.
To reach the target recipient, the email message must successfully pass through numerous phases. Even if your mail server accepts a message, the email still may not be delivered due to very different reasons.
How to Access
Navigate to Reporting > Messages > See: Message Report for full details


Types of Bounces
Soft Bounce:

A soft bounce (or transient failure) is the email that is returned to the sender due to some

temporary

reasons: busy mailbox, blocked domain, mailbox full, account temporarily down, network busy, mailbox over-limit, etc. This type of bounce does not mean that the message was not delivered at all. The message could have hit one of these reasons, bounced, tried again, and was successful.

Hard Bounce:

A hard bounce (or permanent failure) refers to non-existing user. This message was not delivered at all.
Possible Reasons
Spam Filters

: if the error says Spam Reporting Address, contact the Help Team to explore.

Blocked Email:

The email has been blocked by the recipient. Individuals can block emails from senders they no longer want to hear from. If that has happened to you, a bounce will be generated. If your recipient has marked your previous emails as spam then the email will not be delivered.

Invalid Email Address:

People sometimes make mistakes when entering their email address. These bounces happen when the contact's Internet Service Provider (ISP) says that an email address doesn't exist.

Vacation/Auto-Reply:

If someone has an out of office automatic reply, your emails to them will show as bounced. It's important to note that, unlike with other bounce categories, this type of bounce means your email was successfully delivered to the inbox.

Mailbox Full:

If your contact has so many emails in their inbox that they can't receive more, your emails will bounce back until there's space for them. Sometimes, this can mean that the contact is no longer using that email address.

Undeliverable Email:

Undeliverable messages are like a busy signal. When we attempted to send the email, the ISP wasn't responding. We'll keep trying to deliver the email for up to 3 days. If there's no response after that, we label it a bounce.

Other: Sometimes an ISP doesn't use a standard error message when they send back the bounce information - we categorize these bounces as Others.


What should I do with the email addresses that bounce?
Reach out to the recipient a different way. You can reach out to the recipient through a different email address or phone call to better troubleshoot with them as to why your emails are bouncing. The recipient will need to reach out to their email client to troubleshoot on their end. The client can add the sending email address to their contact list or safelist MemberClicks. See: Safelisting
Clean up your bounced list.

Keeping a close eye on your bounce reports and cleaning up your list on a regular basis will both help minimize bounces and ensure that your carefully crafted messages reach their intended recipients.

Steps to Remove Problem Email Addresses
Removing email addresses that bounce is an important part of keeping your contact lists clean. To remove bounced email addresses, visit your Message Report.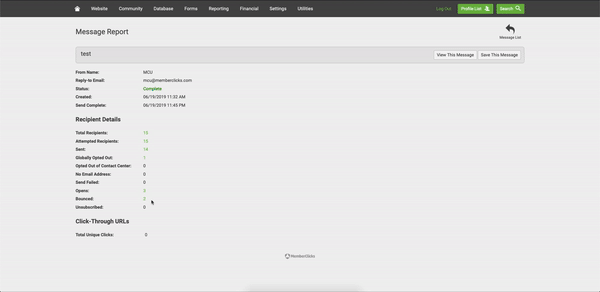 Tips to Prevent Future Bounces from Happening
Don't Purchase a List -

Buying a list may seem like an easy way to grow the number of contacts you mail to, but it's

against our email permission policy

, it's something that spammers do, and you don't know how old the email addresses are. We have

tons of sign-up tools to help you grow your list

organically with people who are actually giving you their permission to email them.

Encourage Members to Update their profile information

.

Test your email before mass sending

. Send a test email to your profile first to make sure everything works well. Check all the links, etc.

Things to avoid:

If your email message is delivered to a spam or junk folder rather than your contact's inbox, you'll want to take a look at your email content.

Excessive use of punctuation and symbols

overly promotional language like "free" or "buy now"

Reduce the use of all caps in the email or subject line

Keep your subject line to 5 words or less. See our blog post:

Stop Doing These 4 Email Headline Mistakes

Don't include attachments to your email

Spell Check

Don't use too many images

Resize your images before adding them to your email message. (See:

Resizing Images

)

Other Helpful Resources: