This articles outlines how to search for registrants of a specific event in your MC Professional database. This is useful if you're sending out emails to members who missed an event, were registered for and event, or member who attended one event but did not register for another.
To search for profiles by event status
Navigate to the Profile List from your admin dashboard.

Click on the Advanced Search by dropdown menu, then select Event.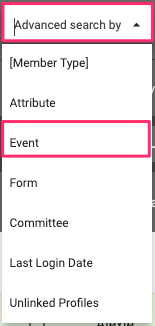 You can search for members with a registration status of:
Is registered for
Is not registered for
Cancelled
Attended
No Show

Next, select which event in your database you want to search.

If you want to search across multiple events (e.g. to find members who attended the conference but did not register for the annual meeting), add another event with the Add more criteria dropdown menu.

When you're ready, click the RUN THIS SEARCH button to display your results in the list below.