With date-based pricing enabled, you can display different pricing options based on the date that a user takes the form.
You can provide form-takers with registration and membership discounts, or limited-time sales on merchandise.
To add date-based pricing
1. Navigate to Forms > Form List.

2. You can create a new form. Or, hover over an existing form, then click EDIT.

3. On the left side toolbar, in the Form Settings tab, scroll down to the Date-based pricing section. Click Add Date-based Pricing Rule.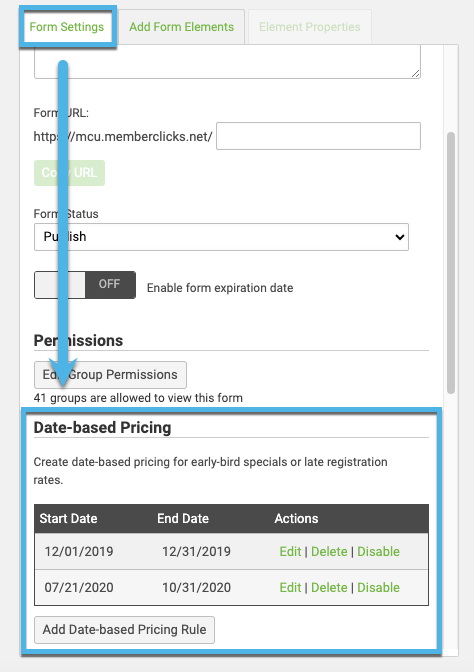 4. In the modal window, enter a date range in the Start Date and End Date fields. You can offer different pricing for form-takers who pay during this date range. Click Save when you're finished.

5. Back on your form, you can view your newly added date range in the Date-based Pricing section. Under the Actions column, you can Edit, Delete, or Disable your date range. Click Edit to configure these settings.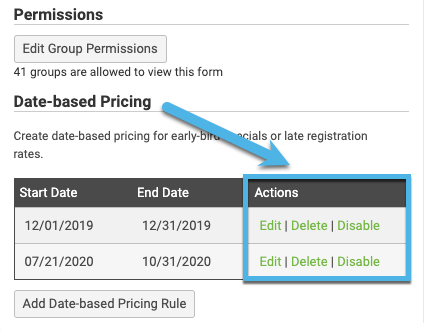 6. Click inside the text field at the top of the modal window. In the dropdown menu, choose which groups you want to add specialized pricing for. Click Add a column when you're finished selecting.

7. You can view the Base Price column to the left. In your newly created column, or columns, you can add date-based pricing. Click Save when you're finished.
You can select multiple groups at once to include them in the same pricing column. If you leave a pricing field blank, the form-taker will be charged the base price of the selection.