What is it?
MC | Review Panel is a free add-on included with your MC Professional product: A one-stop-shop for collecting submissions and providing an area for your reviewers to review, comment on, and rate them. For more details, check out this article: MC | Review Panel: Everything You Need to Know, or click here to book a demo.
How do I do it?
Step One: Build your form, and collect submissions
The Review Panel add-on leverages our existing form builder. You can include a Review Panel Section in a stand-alone form, or as part of your conference or event form.
To get started, navigate to Forms > Form List and create a new form, or edit an existing form. The next step is adding a Review Panel Section to the form (remember, this is where you collect the data that you want Reviewers and Review Leads to see). You'll find the Review Panel Section under the Presentation tab of the Add Form Elements section.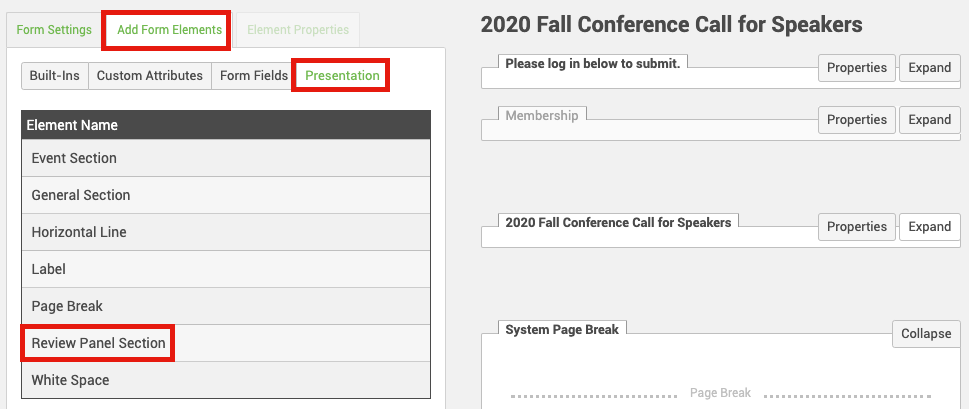 After clicking Properties on the Review Panel section, you can: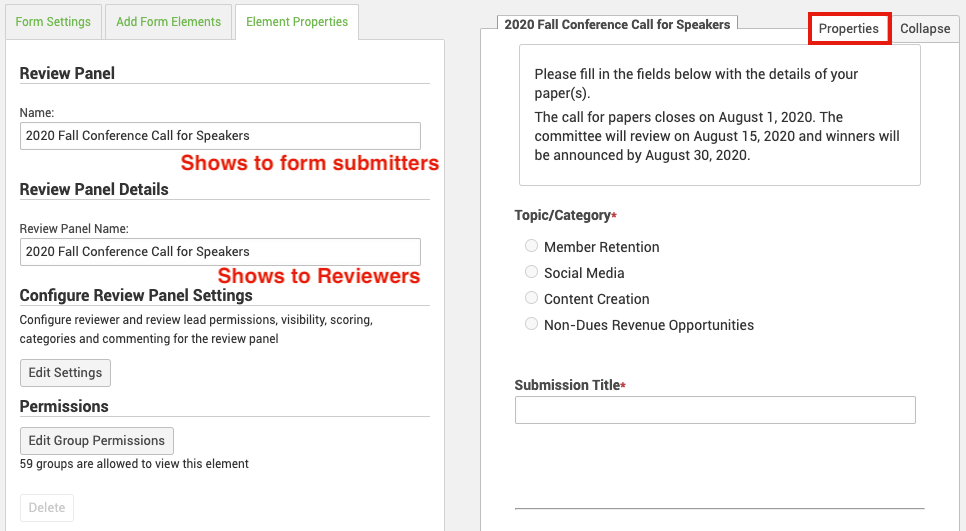 Add the Name: This name will display to submitters taking the form
Add the Review Panel Name: The name displayed to Reviewers upon login
Edit Settings (ex. Review Permissions, Content selection, Scoring, and Commenting)

Permission Reviewers and Review Leads by adding the appropriate Group(s) to determine who can see the submissions
Determine what Content is displayed to Reviewers and Review Leads (show or hide form fields and/or submitter names)
Enable and configure Scoring:

Pass/Fail: Reviewers will select one of two custom options rather than applying a rating (ex. pass/fail, accepted/rejected).
Stars: Reviewers will choose between 1 and 5 stars. You will also select how the score is calculated – Total, Average, or Unique.
Numeric: Reviewers will enter a score between the custom range provided. You will also select how the total score is calculated – Total, Average, or Unique.
For any scoring option, you can also include up to 5 Categories. Reviewers will be able to provide an overall score in addition to individual scores.

Enable and configure Commenting

Reviewer, Other Reviewers, and Review Leads- All Reviewers and Review Leads can comment and view all comments
Reviewer and Review Leads- Reviewers can comment, but only Review Leads can view comments. In other words, Reviewers cannot see other Reviewer comments
Review Leads- Only Review Leads can comment

Permission which Group(s) should be able to see this Section when completing the form. This is usually all groups including Prospect.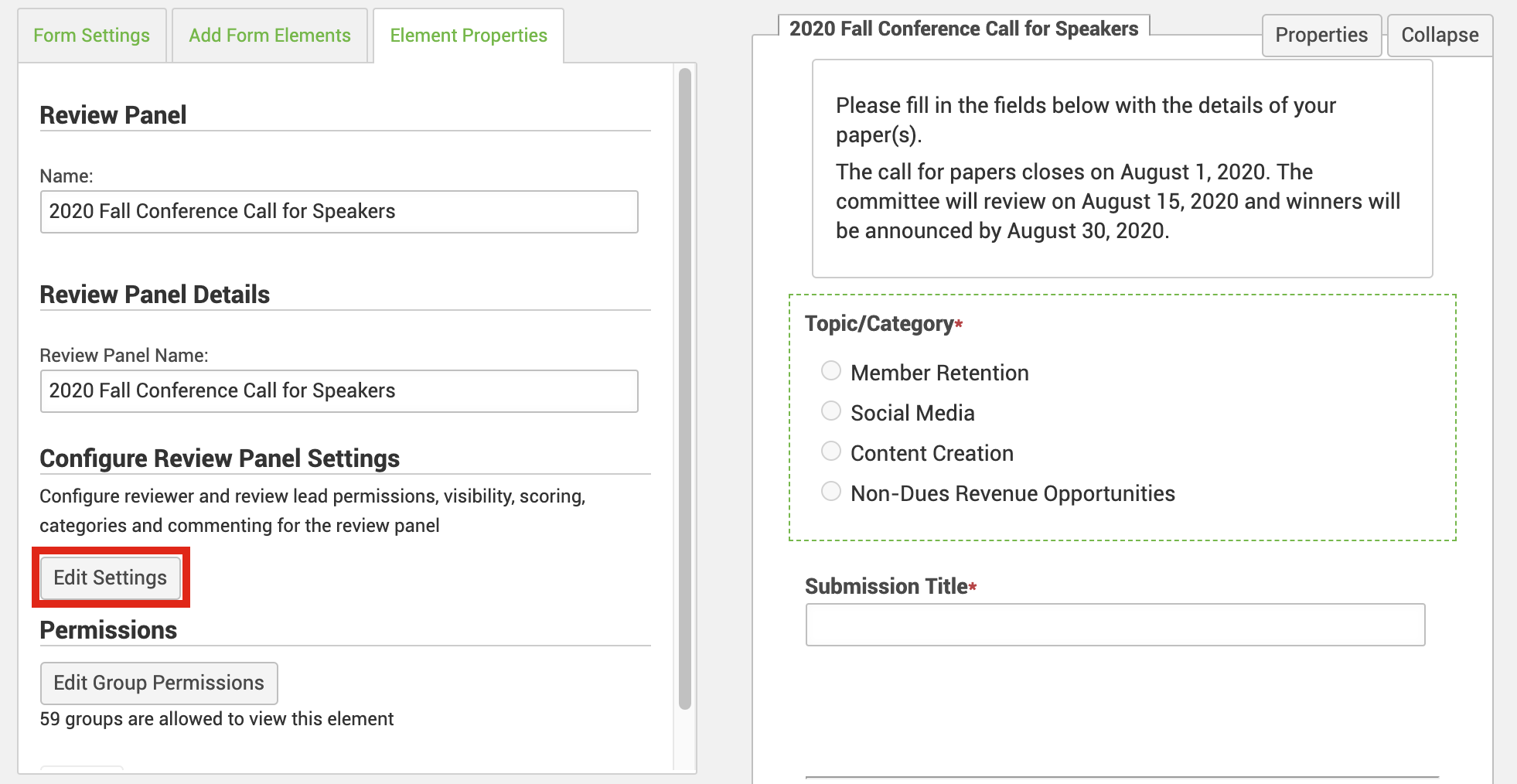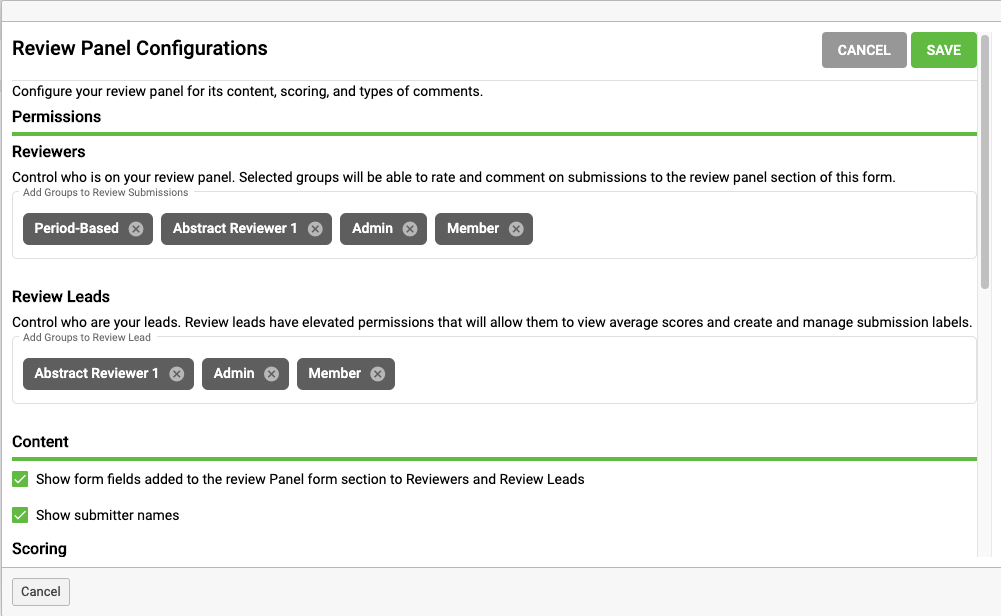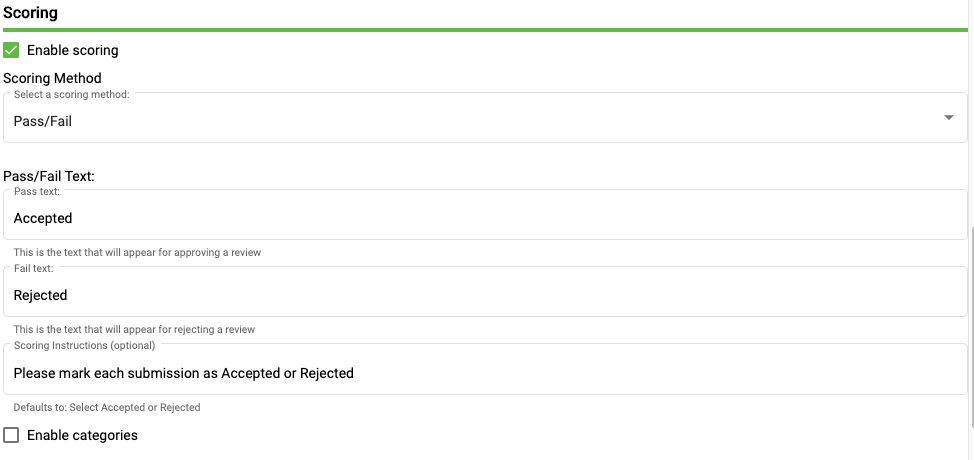 Key Notes:
Any Form Field(s) you want Reviewers to see must be included in the Review Panel Section of the form
All Review Panel Submissions will have a Submission Category and Submission Title (Details in the table below)
You will want to include the Built-In Attribute called Name in order to ensure a name is included with the submission
To collect attached documents be sure to use the Review Panel File Upload field
Important Review Panel Form Elements:
| | |
| --- | --- |
| Element | Key Notes |
| Submission Category | The topic/category will be self-selected by Submitters, and appears as a filtering option for Reviewers/Review Leads. This is included in the section by default. |
| Submission Title | Name of the submission that is displayed to Reviewers/Review Leads. |
| Name Built-In Attribute | This is optional, but it's imperative if you need the submitter name tied to the submission. This is especially critical if prospects or non-members will be submitting. |
| Review Panel Submission Text | You can include as many (or as few) of these elements as you would like, and each will be displayed to Reviewers/Review Leads as their own document. |
| Review Panel File Upload | Like Review Panel Submission Text elements, you can include as many (or as few) as you desire, and each will be displayed to Reviewers/Review Leads. |
Once your form is ready, you'll link to it from your website and/or emails in the same way you would with any other form, utilizing Menu Items and/or Site Links.
NOTE: As a best practice, once you're finished collecting submissions, we recommend unpublishing your form prior to opening up the list for your Reviewers.
Step Two: Enable your review committee to review submissions
When you're ready for your Reviewers and Review Leads to log in to review submissions, you'll need to create and permission menu items for them as an access point (one for Reviewers, and if applicable, one for Review Leads).
Note: If needed, users can be both a Reviewer and Review Lead – just be sure to set up a menu item for each role and permission accordingly.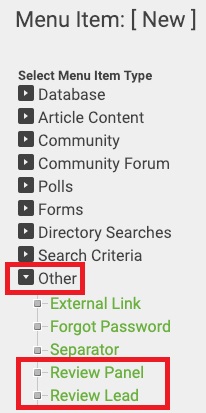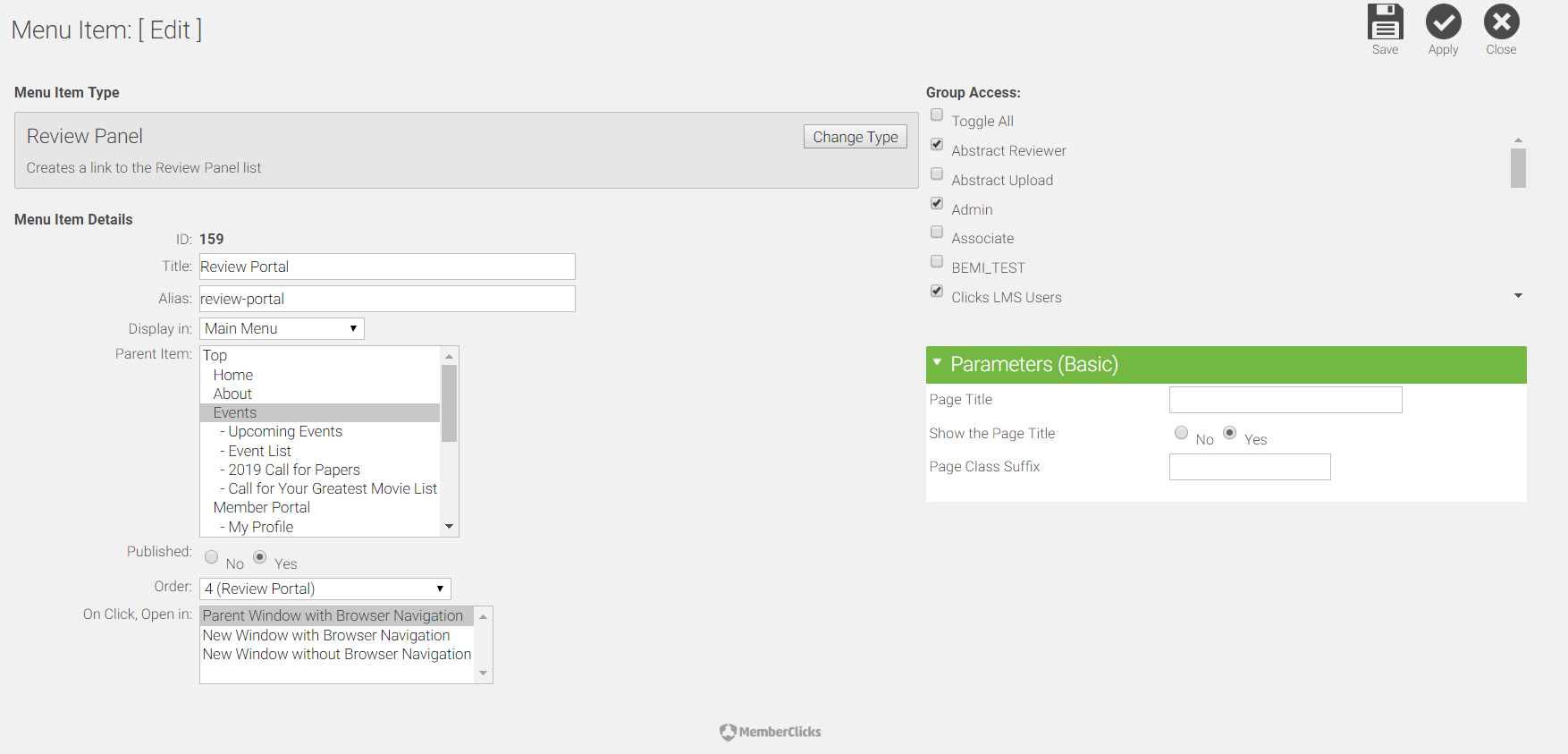 Based on the Permissions you've set in the Review Panel section of your form, as well as the Review Portal Menu Item(s) you've just added, Reviewers/Review Leads can now visit your website to review submissions.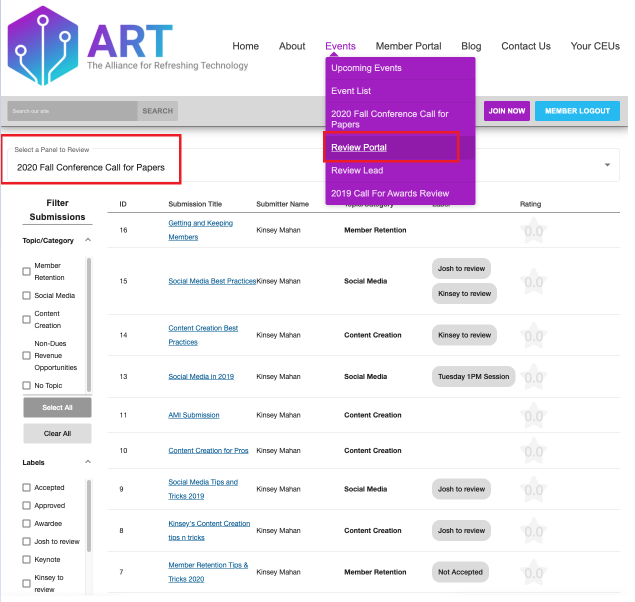 By clicking on the Submission Title, your Reviewers can drill into the individual submissions. What reviewers see and the actions they take are based on the Settings you previously configured.
Numeric Scoring example: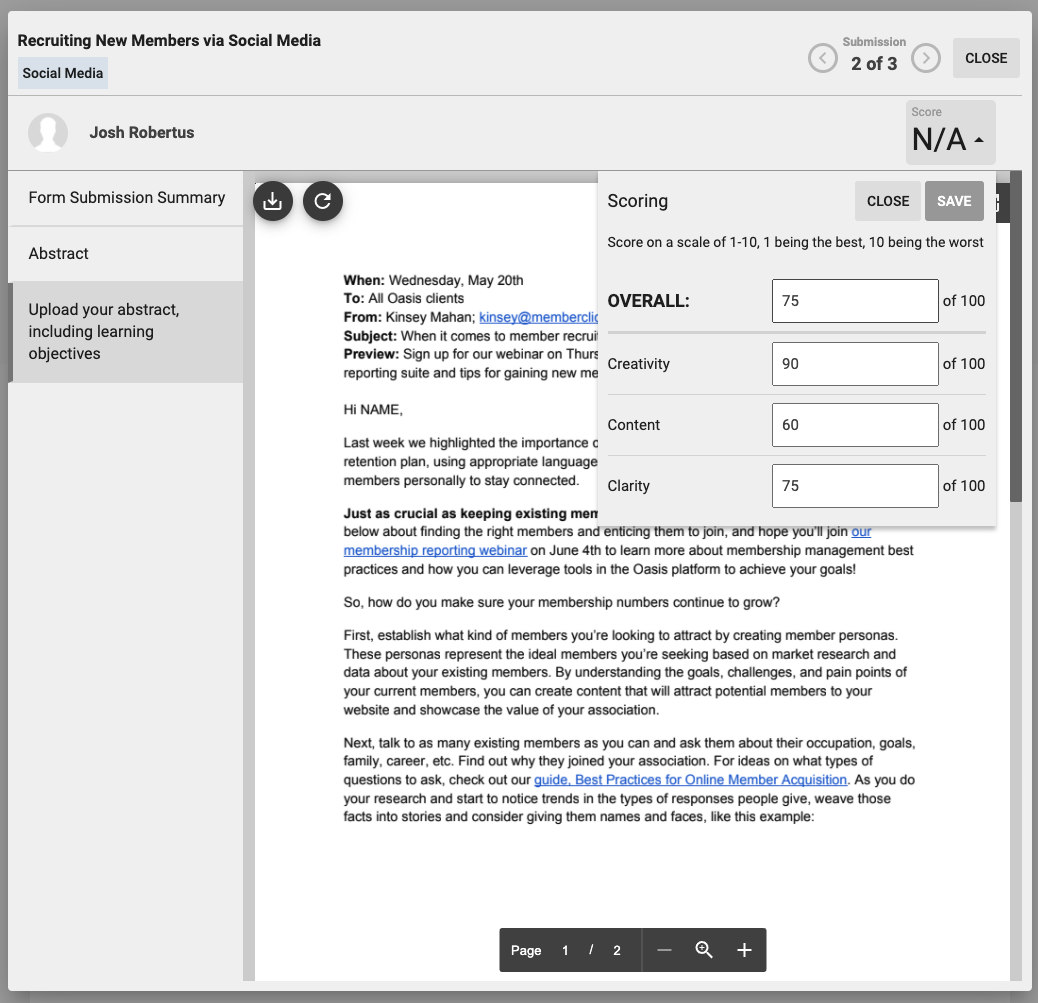 Stars Scoring Example: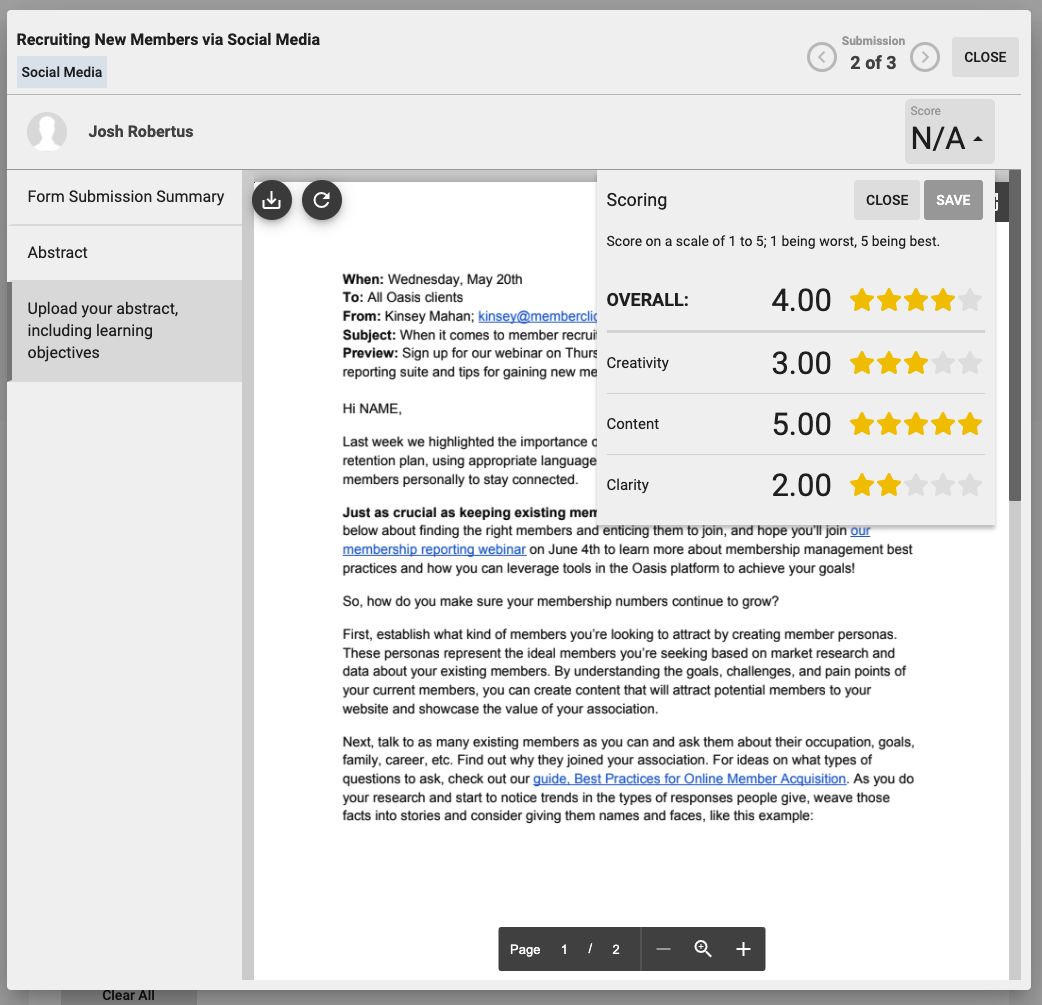 Pass/Fail Example: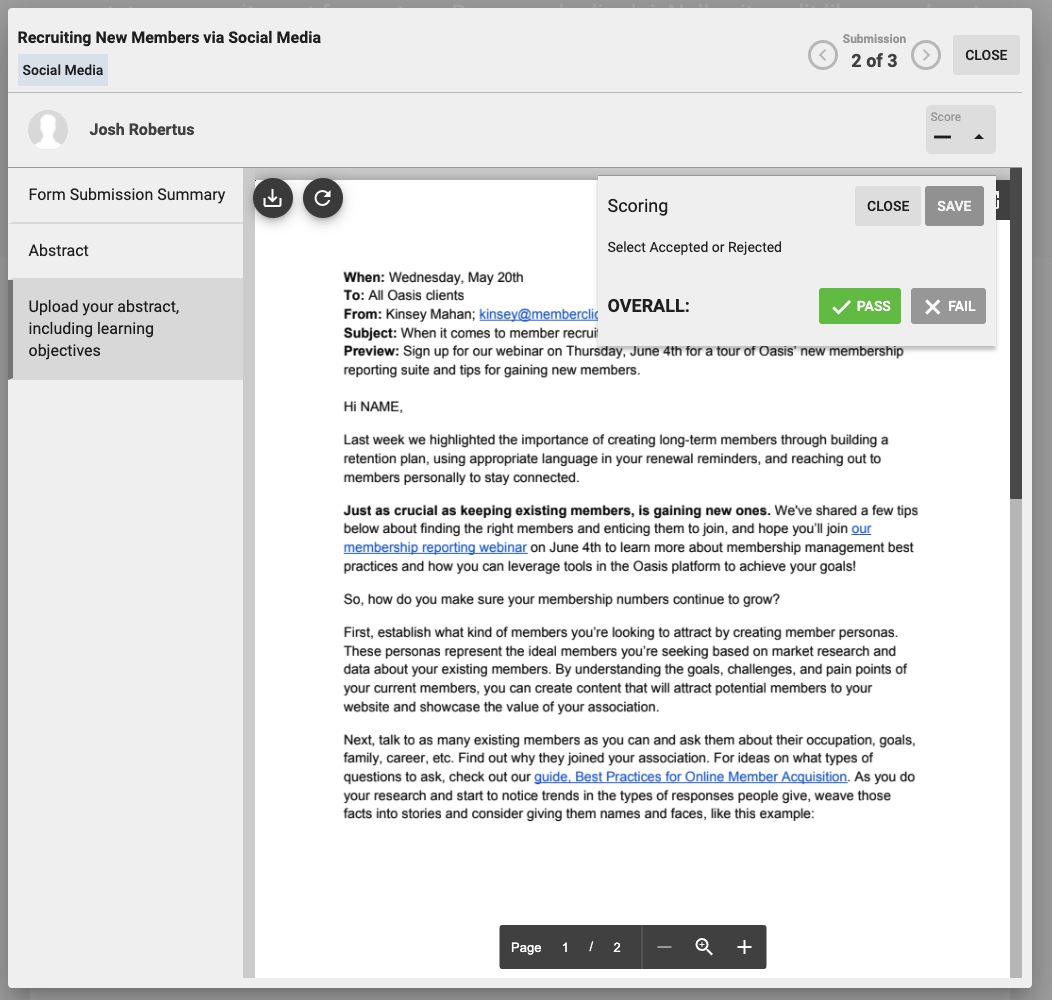 Review Leads will see each submission's average score and reviewer comments, and will have the ability to create, apply, and manage labels. Review Leads can leverage labels to build sessions, identify winners/speakers, and help admins prepare for their event or conference.
Step Three: View the review results, notify necessary parties, and continue planning your conference
When the Review process is complete, you can view the final results of your Reviewer's efforts on the admin side by navigating to Forms > Form List and clicking into the Submission List (click the number under the Submissions column). In the top righthand corner of your Submission List, you'll see an icon for Review Panel where your results await.
In the Review Panel List, you'll be able to see the number of Total Comments, the Average Score for each submission, and any labels that Admins or Review Leads have applied. Additionally you can tag submissions and export:
Entries: Review Panel form fields plus review data (average score, comments, total reviews, labels)
Submissions: All form fields/attributes
Files: All files uploaded to the Review Panel File Upload field(s)