Why is it used?
In order to accept payments through your online forms, you will need to have a merchant account and payment gateway setup. Once established, this account will integrate with your MC Professional forms and enable real-time credit card and/or e-check payment options. MC Professional has established security measures which are certified as PCI compliant to keep the entire process safe and secure for you and your users.
What is it?
Through the Payment Service Options area, you're able to integrate with Payroc/NMI real-time credit card and e-check payment solutions. Real-time credit card processing allows a user to pay their amount due with a credit card instantly. E-check processing allows a user to pay their amount due with a checking account by entering the routing and account numbers. NOTE: Both options require a merchant account and payment gateway.
Compatible credit card providers
Payroc/NMI
Authorize.net
Compatible e-check provider
Payroc/NMI EFT
How to Access
Navigate to Financial > Invoicing, then click on Payment Processors in the top right-hand corner.


Adding a New Payment Processor
1. Click "Add A New Payment Processor".

2. Complete the steps below:
Label the new Payment Processor (e.g. Payroc/NMI)
Select your Payment Processor from the drop-down
Enter the Username provided by your Payment Processor

This is the API Username in the Payroc/NMI gateway.
This is labelled Name if using Auth.net

Enter the Security Key/password provided by your Payment Processor

This is the API Key in the Payroc/NMI portal.
This is known as the Transaction Key if using Auth.net

Select Electronic Check or Credit Card Payments
If Credit Card, select each credit card type that you're able to accept (NOTE: Only select Amex or Discover if your Payroc/NMI account is configured to allow for them)
Save. Note: MC Professional automatically tests the integration to your payment processor. If you have entered incorrect credentials, MC will alert you so they can be corrected before saving.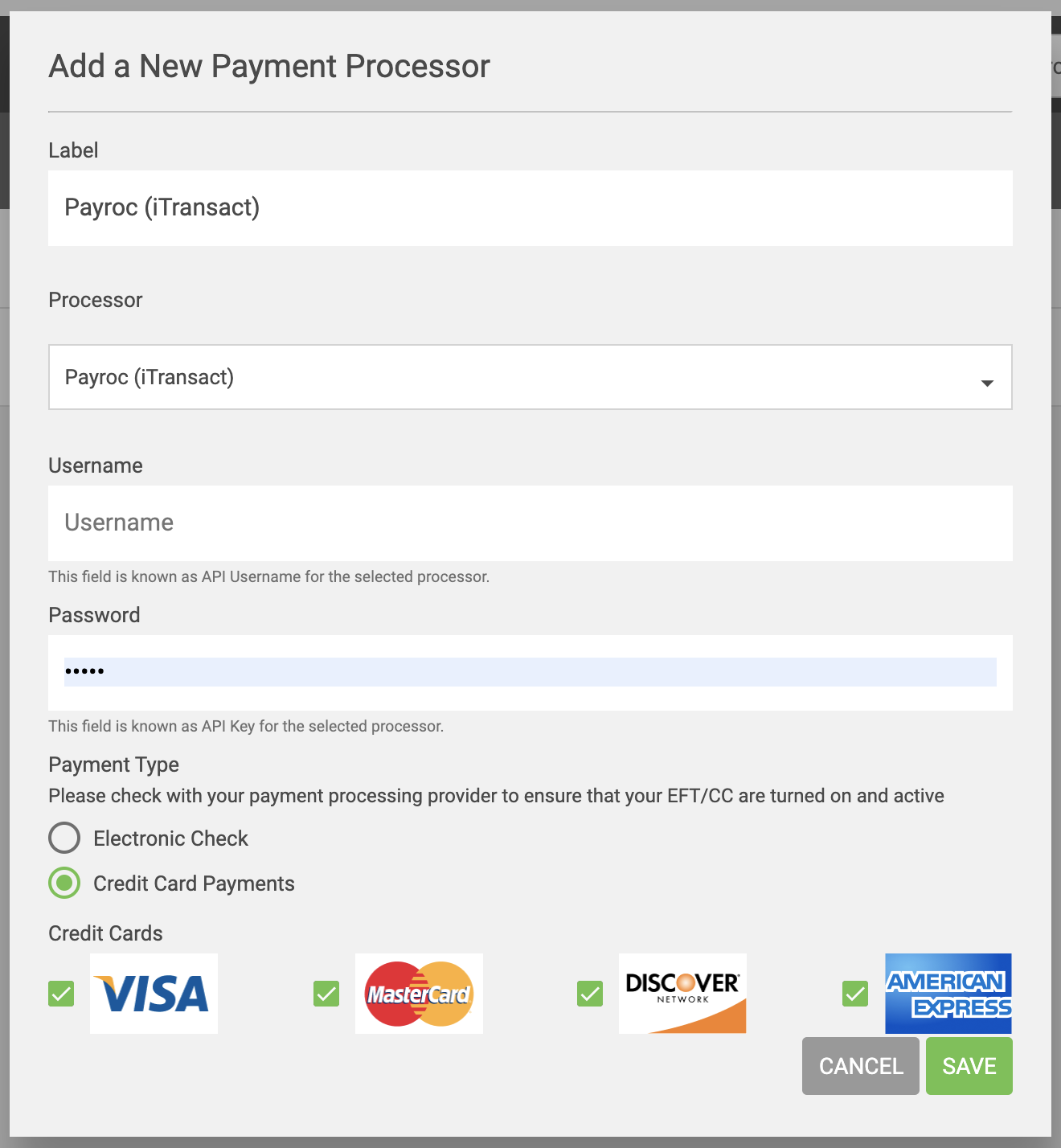 Payment Processor Information
For full details, call us at 800.914.2441 or click here.
MemberClicks is proud to announce a partnership with Payroc/NMI. Payroc/NMI is made up of professionals who have experience in the non-profit and association world, making them the best choice for your organization.
Through our relationship with Payroc/NMI, you can get the MC Professional Customer rate of only $16.95 per month - a 25% savings off the regular price.
On top of that Payroc will waive the $195 set-up fee!
Payroc E-Checks
With Payroc/NMI, you are able to accept check payments online without requiring your members to mail anything. It works like using a credit card, but instead of entering CC information, the user will enter their checking account information.
MemberClicks has partnered with Payroc/NMI in order to offer organizations the ability to accept E-Check payments through MC Professional forms.
To get started accepting Electronic Check Payments, please contact the MemberClicks Help Team to get the application process underway or contact your Payroc/NMI representative.