As an ASA, you may have members reaching out to you advising they can't access your member directory. This is due to your Group Attribute Security and/or Directory settings.
Group attribute Security
Navigate to Database > Attributes > Group Attribute Security. Select the affected member's group from the dropdown titled Select Group. Any attribute that you want visible for this group you can set to Can View by hovering over each individual cell. Each column is divided by member type, so you can customize which member types this group can and can't see. As necessary, repeat this process for each of your member groups.

For more information on group attribute security, visit our help article here.
Directory settings
Navigate to Community > Directory, hover over your directory and click Edit.

The drop-down menus titled Select Member Types to include in Search Results and Select Attribute to include in Search Results will affect your search results. Ensure you've selected all the member types you want searchable using the former dropdown. If you've enabled a qualifying attribute in the latter dropdown, a member will need to meet this attribute criteria to be searchable.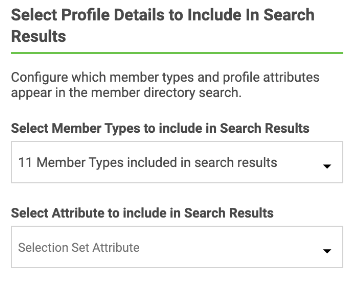 Ensure all of the attributes you've enabled in your directory are set to Can View in your group attribute security settings. If they are set to Hidden, they won't be searchable. If you've enabled a qualifying attribute using the Select Attribute to include in Search Results dropdown menu, this will also need to be set to Can View.
For more information, click here to watch a short video on setting up your member directory.

Troubleshooting
If you're still having issues, try clearing your cache and cookies and ensure you do not have any plug-ins or extensions enabled in your browser.