What is it?
A saved search is a dynamic search that automatically updates its results over time by adding the users that meet its criteria and removing those who do not. Unlike a directory search, which forces the user to perform a search before seeing the results, a saved search automatically displays its results the moment it is accessed.
How to Access
From the Profile List, click the 'Advanced search by' drop-down to pull up the filters to use for your search. You can add multiple criteria to your searches based on:
Member Type

Attribute

Event

Form

Committee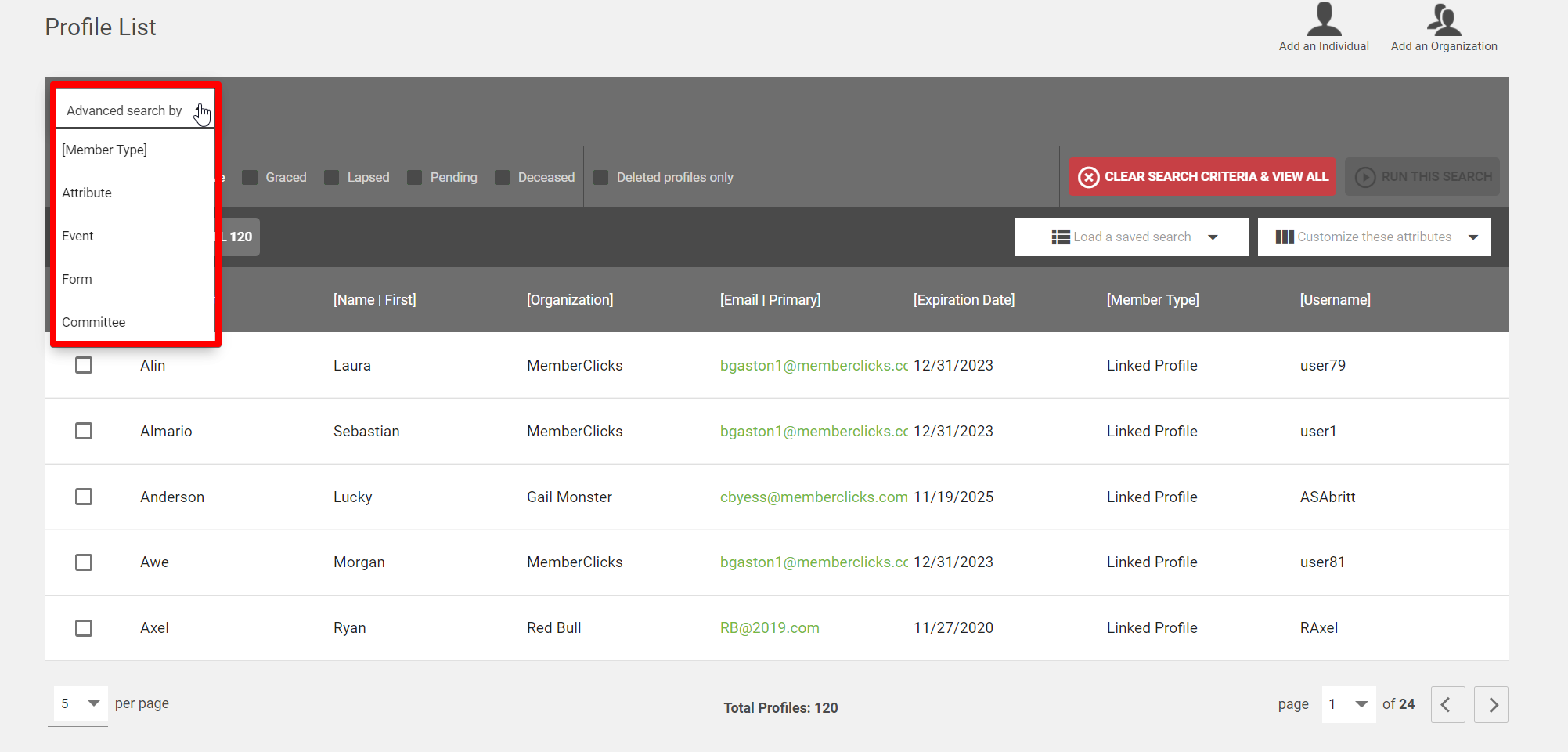 You can also filter your results using the Status attribute. This will ensure that only users of a certain status display in your results.

Once you've chosen your profile statuses, click the 'Advanced search by' drop-down and choose the option you want to search for. For example, if you want the results to display everyone in a specific Member Type, you would choose Member Type-> Is -> Enter the Member Type's name. If you need to search for an additional item, click the 'Add more criteria' drop-down and choose another option to search. The search criteria for this example would look similar to the below:
Click the green 'Run This Search' button on the right side of the page to run the search. You will then receive your results.
To save your search as a saved search criteria, click the 'Save Search Criteria' button on the left side of the page. This button is pictured in the screenshot above.
Who can view the search?
Both administrators and users can potentially view a saved search. If you would like for your users to view the search results on your website, you'll need to link it to a menu item. This guide explains how to do so.
To run the search as an admin, click the 'Load a saved search' drop-down pictured below, then in the 'Load a saved search' section, choose the search. The search will automatically run, so there is no need to click the 'Run This Search' button in order to receive results.

To edit or delete a saved search, click on 'Load a saved search,' then click the option 'Manage Saved Search.' This area allows you to rename or delete your saved searches.