Adding Admin Users
As you are getting the Classroom set up, you may want to add admin users. (Note: If you are using the Classroom in conjunction with MC Professional, you will not need to manually add any learner users - as long as the learner has a profile within MC Professional, they will have a learner profile created automatically upon logging into the Classroom.)
To add an admin user, you will navigate to People > Users and click the "Add User" button.
From there, fill in all required fields, and make sure to set the "type" to Admin (Note: ensure that the email address you use for this admin is the same as their email address in their MC Professional profile - if these do not match, they will not be able to log in).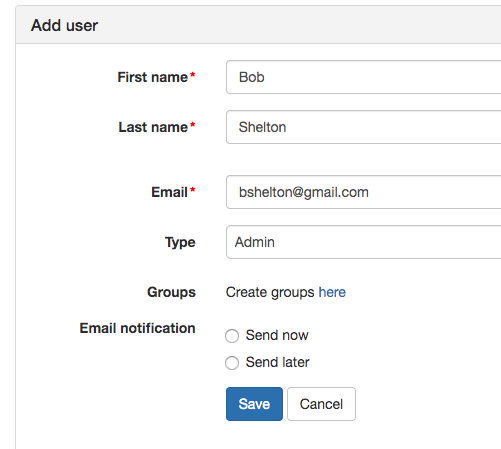 For the email notification, you can select either send now or send later, but in both cases you will want to reach out to the recipient and let them know to simply ignore that email. Since your system is hooked up to MC Professional via SSO, they will not need to create any new login credentials, but instead will simply use their MC Professional account credentials for logging in.
Finally, once you've saved all of your settings, you will want to click the blue pencil icon for that profile, click the "active" checkbox, and save. Your admin profile is now ready to go!