Intro: What is it?
The MC Professional Continuing Education Transcript allows you to view, add to and maintain your members' earned educational credit hours at the profile level. Additionally, CE Transcript empowers your members to access, add to and export their educational history on demand.
Video Tutorial
In this article, you'll find written details about how the CE Transcript tool works. However, if you'd rather watch a video to guide you through the full process, click the video below to watch.
Adding CE Credits to Multiple Profiles
First, you can tag profiles to which you would like to add Continuing Education hours (CEs), either by clicking manually or through an advanced search. After your list of profiles is tagged, click Actions and then Add Education Credits.
Fill in CE Details
Here, you can add the CE details. Keep in mind that what you enter here will populate to all of the profiles you tagged in previous steps. Required fields include Event/Session Name and the Date Range. If your event is only one day, simply choose the same date in both boxes.
PRO TIP: If you need to add, edit or delete a new CE category, click "Manage Categories" first.
From there, you can add, edit or delete credit categories. Once done, click Add CE Credit to get back to entering the credit details.
Enter credit details and click Save to add credits to selected profiles.
Member Education History
By clicking on the Continuing Education tab inside a profile, you can view, edit or delete the details of any CEs that exist for that member. You can also add credits from the admin profile view (see next section).
Adding Courses to One Profile
You may want to add one or more CEUs to a member profile. To add one or more CEUs to a member profile, go to the Actions menu and click Add an Education Credit.
Once again, you can add the credit hour details here. What you enter here will go directly to this individual's profile.
Enable members to see their CE Transcript
To enable access for your members to their personalized continuing education transcripts after logging in, you will need to add a menu item on the front end of your website. Go to Website >> Menu Items >> Main Menu. Click on New to add a menu item. Then, click Other and Continuing Education to set up the link that will allow your members to see their transcript after logging in.
Configure Link Details and Permissions
Here, you can set the title, location and group permissions for your Continuing Education link. This link will appear on the front end of your site for members assigned to appropriate groups. If a member clicks on the link while signed into their account, it will show them their personalized CE Transcript.
PRO TIP: If you want your members to be able to add their own CEs to the Transcript, make sure the toggle under Parameters (Member View) set to "Yes." By default, it is set to "No."
Place a Global Footer on Exported Transcripts
Perhaps you would like the transcript that your members export and print to include a footer. Some customers use this for an address, others use it for a statement that is mandatory on such a document. To do so, head to the Settings Menu >> Account Settings. Then, scroll down and enter the text you'd like in the footer. Don't forget to press the save button at the top of the page!
---

Setting Up the Member Experience
Accessing a Transcript
Once your member or profile owner signs into your website, they will be able to access their personalized transcript by clicking the link you created on the administrative side. Keep in mind you can place the Continuing Education link in your Main Menu, your Member Main Menu or as a Quick Link.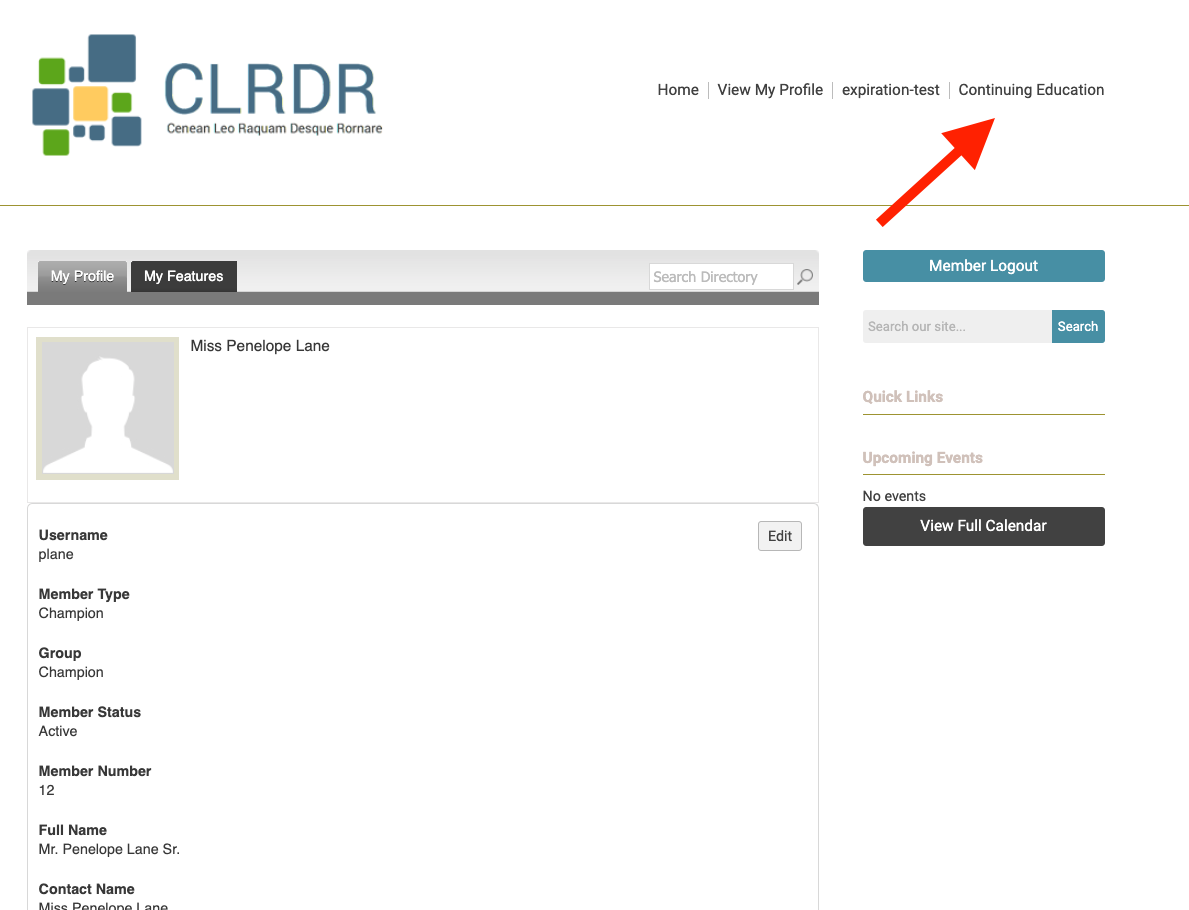 Adding Education Credit Details
Here, your member or profile owner can add their own credits to their CE Transcript, if it was enabled on the Continuing Education Menu Item under Parameters (Member View). This may be handy if your members obtain credits from a source outside your association, but would still like to track them. For any credits that they add to their account, they will be able to Edit those details at any time. Note: Any credits added on the admin side will NOT be editable by the member on their front-end transcript. They can only edit the CEs added on their own behalf. Also, members can only select from categories that have been added by the admin.
Uploading a Certificate
Additionally, your members or profile owners can upload a certificate to accompany the credits they add to their CE Transcript. After this is saved, their certificate file can also be replaced, if necessary, as well as downloaded out of the Transcript at any time.
Filtering Credits and Exporting a PDF
Finally, your members or profile owners can use filters to specify which credits they want to see and export. They are able to filter by date range, category, and who added the credit (admin or self). Then, they can export a PDF of their educational activity (either full or filtered) any time by clicking Export PDF. They will be presented with a printable PDF showing all the details of their activity over the chosen time.
To view the Help documentation addressing how to import a continuing education credit .csv file, click here.